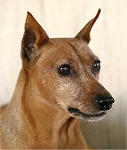 The Last Battle
If it should be that I grow weak, and pain should keep me from my sleep,
Then you must do what must be done, for this last battle can't be won.
You will be sad, I understand, don't let the grief then stay your hand,
For this day more than all the rest, your love and friendship stand the test.
We've had so many happy years, what is to come can hold no fears.
You'd not want me to suffer so; when the time comes, please let me go.
Take me where my needs they'll tend, and stay with me until the end.
Hold me firm and speak to me until my eyes no longer see.
I know in time, you will see, it is a kindness you do for me.
Although my tail its last has waved, from pain and suffering I've been saved.
Don't grieve that it should be you, who must decide this thing to do,
We've been so close, we two, these years; don't let your heart hold any tears.
Smile, for we walked together for a little while.
Author unknown
"Oh Noble Creature"
"Oh Noble Creature the time has come for the two of us to part. And for you to go to a better place, a place deep inside my heart. A place where you'll be be free to chase cars and balls and play. So go noble creature thru that doggy door. And wag your tail forevermore while a friendly voice repeats, "Good dog, good dog."—Author unknown
I'm Still Here
Friend, please don't mourn for me
I'm still here, though you don't see.
I'm right by your side each night and day
and within your heart I long to stay.

My body is gone but I'm always near.
I'm everything you feel, see or hear.
My spirit is free, but I'll never depart
as long as you keep me alive in your heart.

I'll never wander out of your sight-
I'm the brightest star on a summer night.
I'll never be beyond your reach-
I'm the warm moist sand when you're at the beach.

I'm the colorful leaves when fall comes around
and the pure white snow that blankets the ground.
I'm the beautiful flowers of which you're so fond,
The clear cool water in a quiet pond.

I'm the first bright blossom you'll see in the spring,
The first warm raindrop that April will bring.
I'm the first ray of light when the sun starts to shine,
and you'll see that the face in the moon is mine.

I'm the hot salty tears that flow when you weep
and the beautiful dreams that come while you sleep.
I'm the smile you see on a baby's face.
Just look for me, friend, I'm everyplace!
Author Unknown
The one absolutely unselfish friend that
a man can have in this selfish world,
the one that never deserts him,
the one that never proves ungrateful
or treacherous, is his dog.
A man's dog stands by him in prosperity
and in poverty,
in health and in sickness.
He will sleep on the cold ground where
the wintery winds blow,
and the snow drives fiercely,
if only he may be near his master's
side. He will kiss the hand that has no
food to offer, he will lick the sores
and wounds that come in encounter with
the roughness of the world. He guards
the sleep of his Pauper master as if he
were a prince.
When all other friends desert,
he remains.
When riches take wings and reputation
falls to pieces, he is as constant in
his love as the sun in it's journey
through the heavens.
If misfortune drives the master forth
an outcast in the world, friendless
and homeless, the faithful dog asks
no higher privilege than that of
accompanying him to guard against
danger, to fight against his enemies.
And when the last scene of all comes,
and death takes the master in it's
embrace, and his body is laid away in
the cold ground, no matter if all other
friends pursue their way, there by the
graveside will the noble dog be found,
his head between his paws, his eyes sad,
but open in alert watchfulness,
faithful and true, even in death.
THE DOGS WHO HAVE SHARED OUR LIVES
The dogs who've shared our lives.
In subtle ways they let us know
their spirit still survives.
Old habits still make us think
we hear a barking at the door.
Or step back when we drop
a tasty morsel on the floor.
Our feet still go around the place
the food dish used to be,
And, sometime, coming home at night,
we miss them terribly.
And although time may bring new friends
and a new food dish to fill,
That one place in our hearts
belongs to them...
and always will.
---Linda Barnes ---
I thought about you earlier today but I didn't understand why.
I see your face when I look at him and everytime I cry.

I often find my self, calling him your name.
And I wish it were you every time we play a game.

You've helped my through some rough times, and know you were always there.
I used to think you look so smart, the way you'd sit and stare.

You'd always lend a thoughtful ear, a problem you'd never miss.
And I miss the way, on my cheek you'd lay a little doggy kiss.

I know you're gone for good now, though it is hard for me to see.
That you won't come when I call your name, it will always be just me.

I know you didn't leave me empty handed, you left me a part of youAnd,
I will always remember how much you loved me, and the thoughtful things you'd do.

It is hard for me to realize no more cookies you will Mooch.
And, it is hard for me to say goodbye, so rest is peace, my pooch.
--- Carly Dinwiddie ---
DON'T CRY FOR ME WHEN I'M GONE

Three score and ten are given to man,
But ours is a much briefer span.
So, though I give you all my heart,
The time will come when we must part.
But all around you, you will see,
Creatures that speak to you of me;
A tired horse, a hunted thing,
A sparrow with a broken wing ...
Pity - and help (I know you will)
And somehow, I will be with you still;
And I shall know, although I'm gone,
The love I gave you lingers on.
--- (Author unknown) ---
MAY I GO?
May I go now? Do you think the time is right?
May I say goodbye to pain filled days and endless lonely nights?
I've lived my life and done my best, an example tried to be.
So can I take that step beyond and set my spirit free?
I didn't want to go at first, I fought with all my might.
But something seems to draw me now to a warm and loving light.
I want to go. I really do. It's difficult to stay.
But I will try as best I can to live just one more day.
To give you time to care for me and share your love and fears.
I know you're sad and afraid, because I see your tears.
I'll not be far, I promise that, and hope you'll always know
that my spirit will be close to you wherever you may go.
Thank you so for loving me. You know I love you, too.
That's why it's hard to say goodbye and end this life with you.
So hold me now just one more time and let me hear you say,
because you care so much for me, you'll let me go today.
~ Susan A. Jackson ~
A DOG'S REQUEST
The only thing I ask
is to be loved for being me,
To worry not of hunger
or of never being free,
I want to feel the comfort of
a warm and loving home,
And live a life knowing
that I will never be alone.
A PUPPY'S PRAYER

Now I lay me down to sleep
The king-size bed is soft and deep

I sleep right in the center groove
My human being can hardly move!

I' ve trapped their legs, they're tucked in tight
And here is where I pass the night

No one disturbs me or dares intrude
Till morning comes and "I want food!"

I sneak up slowly to begin
My nibbles on my mommy's chin.

For the morning's here and it's time to play
I always seem to get my way.
You're giving me a special gift,
So sorrowfully endowed,
And through these last few cherished days,
Your courage makes me proud.

But really, love is knowing
When your best friend is in pain,
And understanding earthly acts
Will only be in vain.
So looking deep into your eyes,
Beyond, into your soul,
I see in you the magic, that will
Once more make me whole.
The strength that you possess,
Is why I look to you today,
To do this thing that must be done,
For it's the only way.
That strength is why I've followed you,
And chose you as my friend,
And why I've loved you all these years...
My partner 'til the end.
Please, understand just what this gift,
You're giving, means to me,
It gives me back the strength I've lost,
And all my dignity.
You take a stand on my behalf,
For that is what friends do.
And know that what you do is right,
For I believe it too.
So one last time, I breathe your scent,
And through your hand I feel,
The courage that's within you,
To now grant me this appeal.
Cut the leash that holds me here,
Dear friend, and let me run,
Once more a strong and steady dog,
My pain and struggle done.
And don't despair my passing,
For I won't be far away,
Forever here, within your heart,
And memory I'll stay.
I'll be there watching over you,
Your ever faithful friend,
And in your memories I'll run,
...a young dog once again.
I Loved You Best
So this is where we part, My Friend,
and you'll run on, around the bend,
gone from sight, but not from mind,
new pleasures there you'll surely find.
I will go on, I'll find the strength,
life measures quality, not its length.
One long embrace before you leave,
share one last look, before I grieve.
There are others, that much is true,
but they be they, and they aren't you.
And I, fair, impartial, or so I thought,
will remember well all you've taught.
Your place I'll hold, you will be missed,
the fur I stroked, the nose I kissed.
And as you journey to your final rest,
take with you this...I loved you best.