Jinx The Wild Dog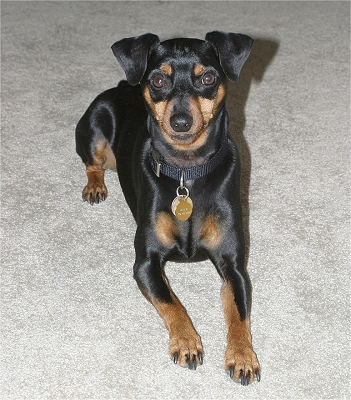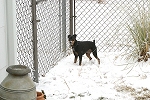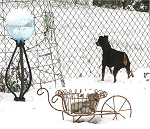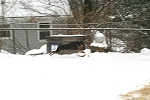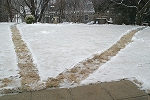 I can handle snow but the ice we got 1/28 was a real drag and slowed me down to the max...
My nice Daddy shoveled paths in the yard for me to make it to my favorite spots!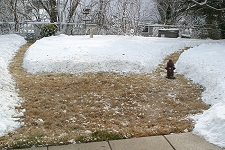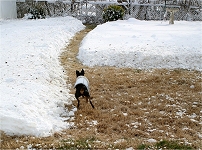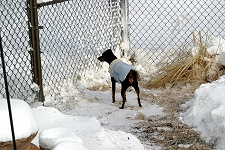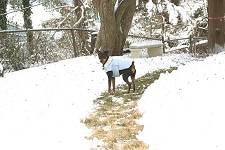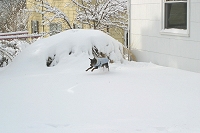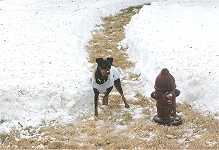 March 1st '09 came in like a lion. The snow was up to my neck and was NOT any fun...
Once again my Daddy shoveled paths to my favorite spots because I was having trouble getting through it.
Man, I'm sure a spoiled little doggie aren't I !!!

Dad made me some agility jumps so since it was nasty outside we did some training
in the living room. Such an easy way to get a treat!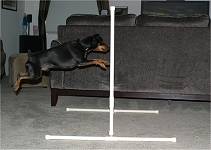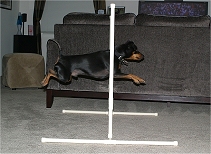 What a difference a week makes. All of the snow has melted, it's in the 70's and it's time to check out the compost pile since Mom and Dad are working in the yard.
Man there are some nice smells in here. I'm so exhausted !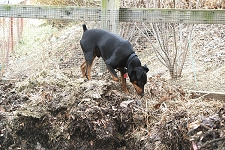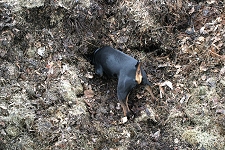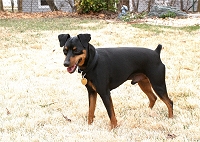 It's been 6 months at my new home and I have full run of the kitchen when left alone. There's a gate up to keep me from the rest of the house although I can jump it with ease but I don't.
I know it's getting old with Mom & Dad but I just gotta keep marking inside the house !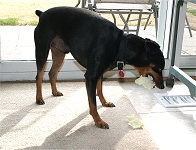 Did I Mention That I Love Lettuce?
My cousin Cosmo came to visit Saturday 4/18/09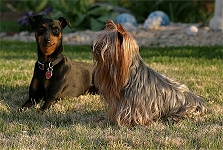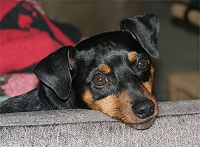 Almost the end of April, temperature hit 80's and I'm waiting for the AC !



Gosh, I just love my yard soooo much !
---
Well it's been 9 months at my new home and now June 6, 2009, my Mom & Dad spring another dog on me.
Sadie, I hear is a foster dog and SHE is going to be a challange for me to whip into shape.
I'm trying to be a gentleman, but I think she's taking advantage of my good nature.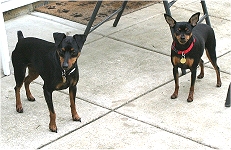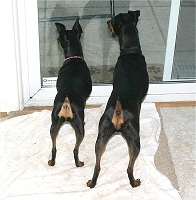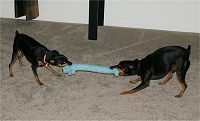 We'll see how it goes but I think it's time to show her who was here first!


Well, that didn't take too long... Today June 27th, Sadie is going to her new forever home.
I know she will be happy because they are a wonderful family and she loved them at first sight!
So maybe I might miss her a little but I met Rocco yesterday a male min pin who's
bigger than me who will be another foster dog this afternoon...
Rocco arrived about two hours after Sadie left...
Man is he a bigger boy than me. He's longer and about five pounds heavier.
I'm a little scared of him comparred to tiny Sadie but time will tell!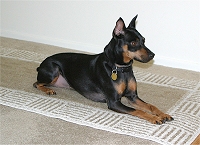 Rocco The Big Guy
Wow, 5 days and I was just starting to get to know him and
he was adopted today July 2, 2009
He went to a really nice home with the greatest family he could ever ask for!
Man, what's going on here? It's July 10th, just barely a week after Rocco left now another dog shows up!
Jack is about 4 months older than me but at least he's more my size.
Guess I'll have to give him the grand tour also and see how long he stays...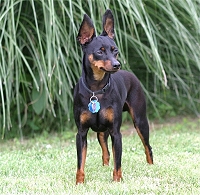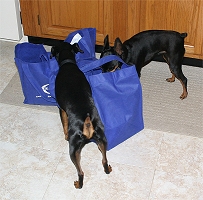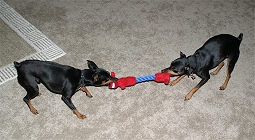 Hey, That's enough pictures of the other dog!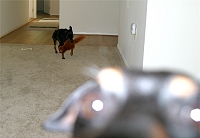 Jack just seems to be everywhere I go...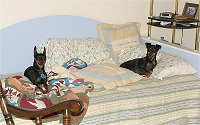 Today July 24, 2009 & JACK has oficially been adopted
by my Mom & Dad ! YEAH !!!!!!

Today is their late min pin Spike's Birthday. He would have been 13 so they thought
it would be nice to adopt Jack today...
Jack's page on the web HERE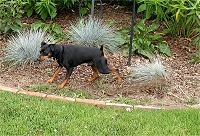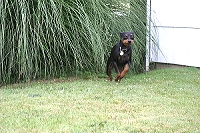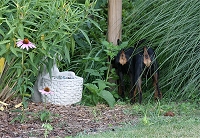 11 months at my new home and I'm enjoying every minute of it
~ Loving The Great Outdoors..Kicking Mulch In The Air ~
Running At Top Speed ~ Investigating With My Best Bud Jack!
Jack's been here a little over three weeks and it's kind of neat having someone to play with.
Trouble is he ALWAYS wants to play from morning to night. Guess he is "the hyper dog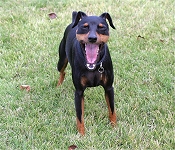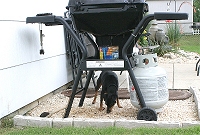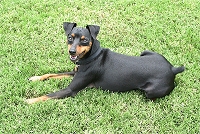 The lazy days of summer are getting close to ending, how sad!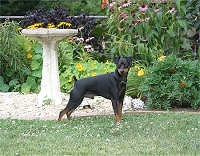 Never tire of posing or resting!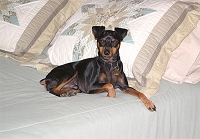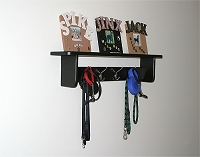 Won't be long before the coats will be hanging up...

Well, It's September 28th, 2009..... Today marks one year at my new home.
I've settled in quite nicely and couldn't be happier here. I still have the need to mark in the house although not nearly as much as when I first arrived.
Jack's been here a few months now and I am starting to get used to his hyper presence. He will no doubt settle in with more time
here since I was just as much a maniac in the beginning as well.

October 10th and my Dad spotted a few dozen holes in the backyard that maybe I had a paw in digging.
I know Jack is the guilty dog with most of them but until we get caught in the act, we're off the hook!
My nice Daddy made Jack & me a new food & water bowl holder!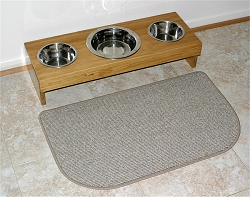 November 8, 2009 Jack and I were let outside this morning at 5am and there was a rabbit outside that picked the wrong yard to visit. We chased him down like pack animals and caught it. Dad & Mom wouldn't let us eat it but at least we got credit for the kill... Rabbits are quick but Min Pins are quicker!!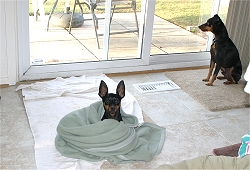 A typical Sunday Morning!
November 29th 2009.
My Dad took his photo stuff out of the closet this morning
and decided to practice...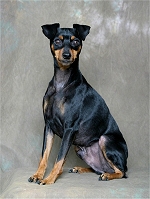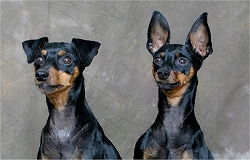 December 5th the first winter snow fall... I love it, Jack doesn't!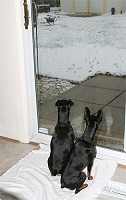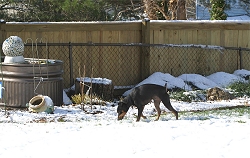 Why do humans think we care about dressing up?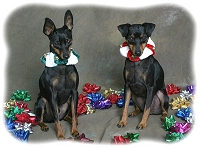 Well, here we go again with the snow...
December 19, 2009 We got almost 20 inches and "this" snow was no fun at all to play in!
We all took a road trip to Easton Maryland to visit Mommy's sister Sharon.
This was my second time there so it wasn't much of a surprise.
I did however slip out of my harness outside and since it was wide open my Dad freaked out.
I didn't go far since I know who my peeps are now.
I also scored an open bag of Cosmo's dog food and scarfed a bunch of it before I was caught...
---
Home Page Current Year Year 2008
©1996-2009 JAMESGPHOTO