Jinx The Wild Dog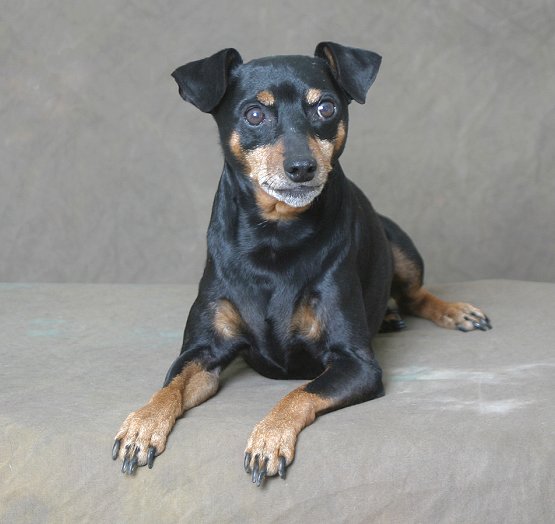 CKC DOB: 12/08/04
DAM: Sheila's Miss Abby SIRE: Spike Little Man Of Steel
---
Adopted September 28, 2008
From The Internet Miniature Pinscher Service



Jinx Year 2016 Jinx Year 2015 Jinx Year 2014 Jinx Year 2013 Jinx Year 2012 Jinx Year 2011
Jinx Year 2010 Jinx Year 2009 Jinx 1st Year 2008
---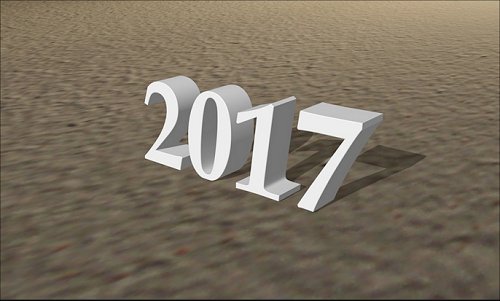 Well 2017 came in without much hoopla here except for a little noise outside.
That's the way it is when you're an old dog!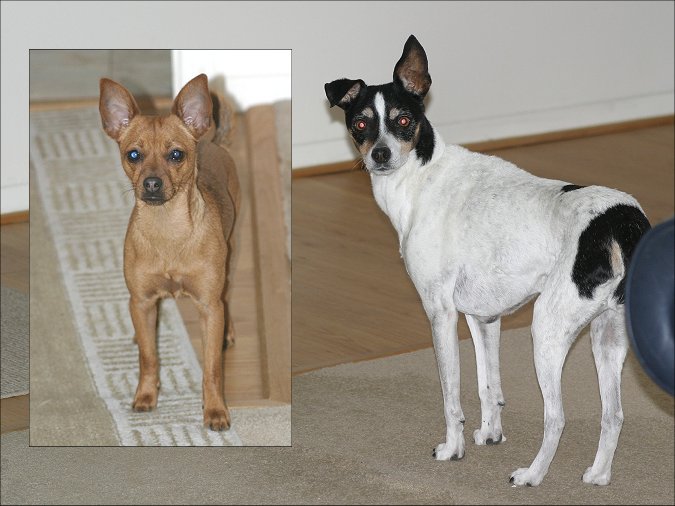 Our house guests Bella who once was a foster here, and her bff Carmin were visiting for the last two weeks and went home January 5th.
It is nice having our house get back to normal...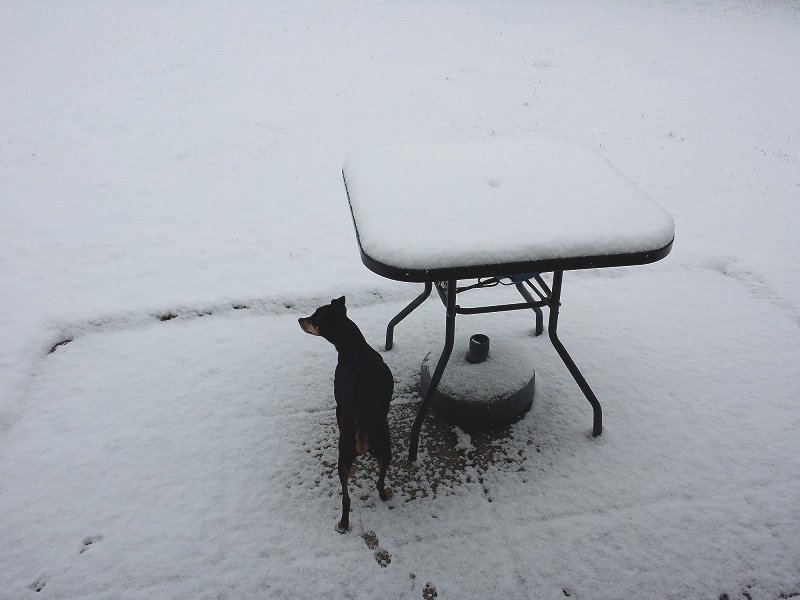 January 7th 2017 First snow fall for the year is only a little over an inch which doesn't bother me at all!!
Since the snow was dry and not very deep, Dad used the leaf blower to make some paths
even though we don't always use them when we're excited...
A couple of quick videos HERE and HERE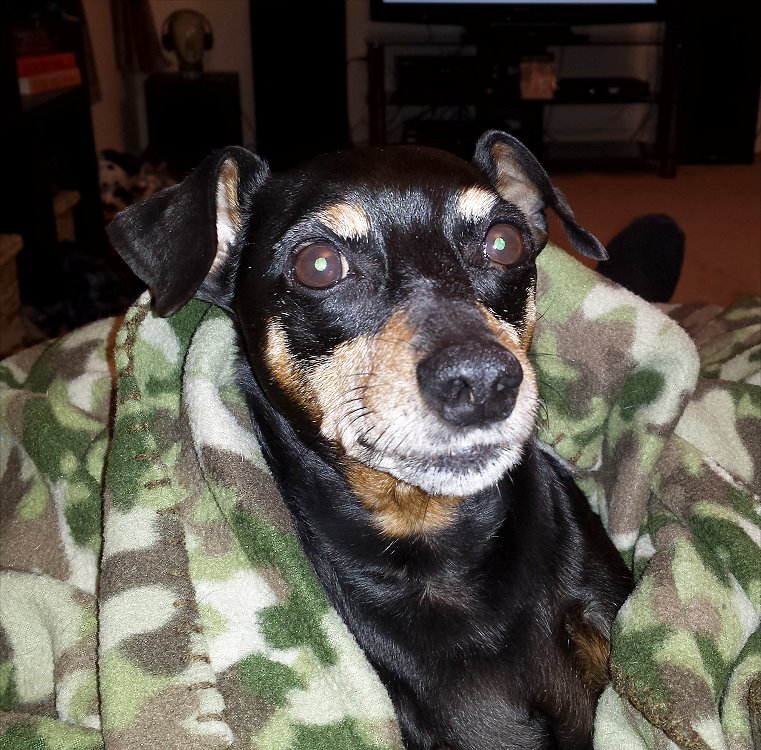 Dad sent a text to Dr. Anderson with a pic of the bumps on my butt to see if a appointment is necessary.
Mom took me to see him today Monday January 23rd because those bumps most likely are something serious.
Doc Anderson said I need to have the bumps removed and have them checked to see if they are cancer.
My surgery is Next Monday January 30th and I will be getting my teeth cleaned also.

Well it's Monday January 30th already and another long day for me at the vet's office.
Was hoping the snow we got last night would put everything on hold but nothing stuck to the roads...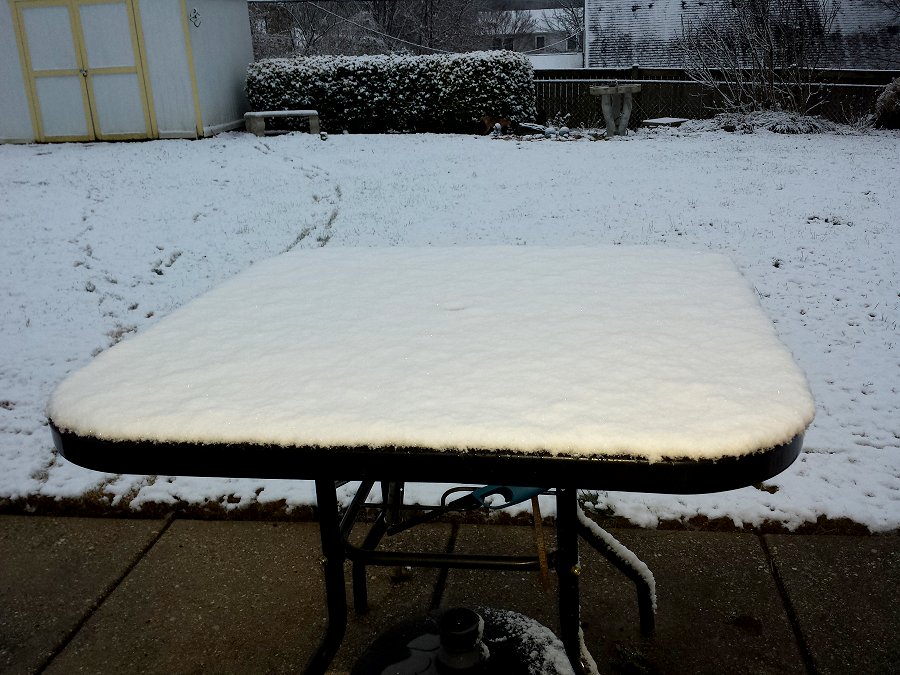 It was a long day and hopefully I won't need to go back. Mom, Dad, myself, Jack & Pippin are lucky that Doctor Anderson @ Waugh Chapel Animal Hospital is so generous with his care. Us boys are costing more money each year as we get older but I know Mom & Dad believe we're worth every penny... I really do hate wearing the cone of shame...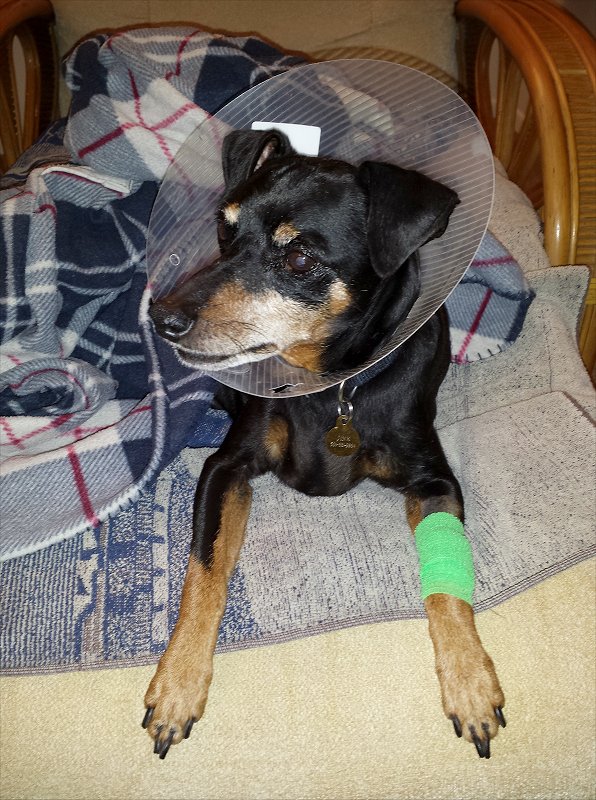 Well February is almost gone it's the 25th and the weather has been in the 70's, sweeeet !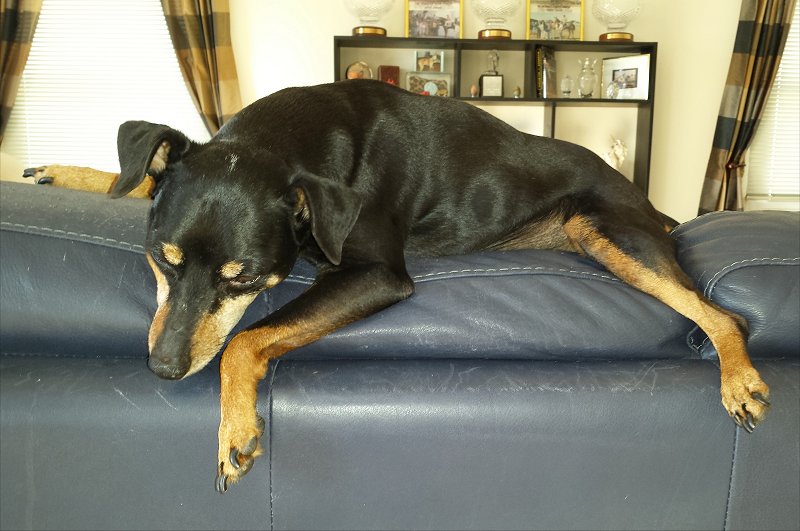 Spoke too soon... Sunday the 26th and it's in the low 30's outside......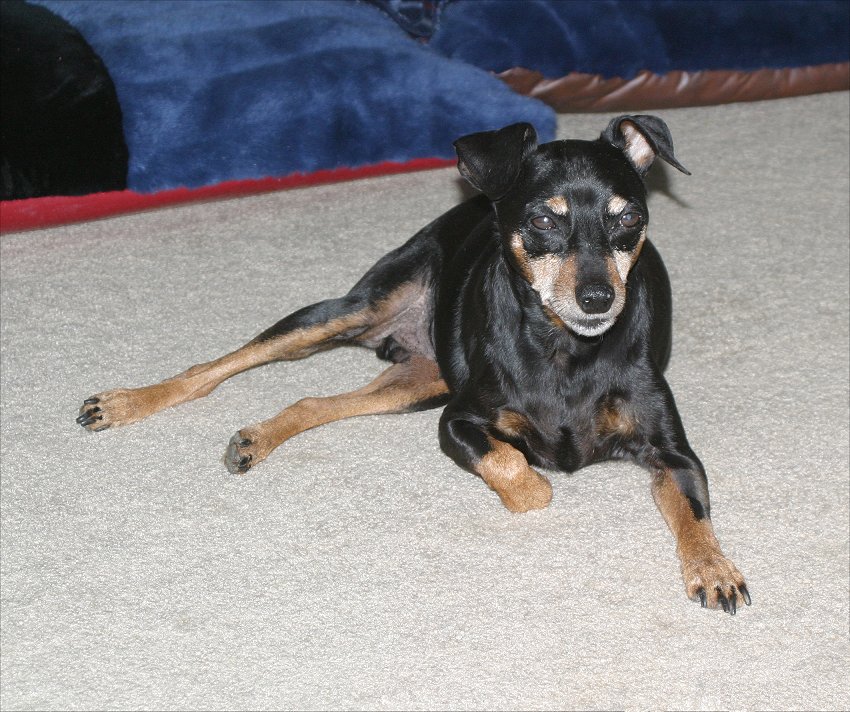 This weather is getting a little crazy...
One week not too long ago I was laying in the hot sun outside...
Today, March 14th is a different story with sleet and freezing rain!!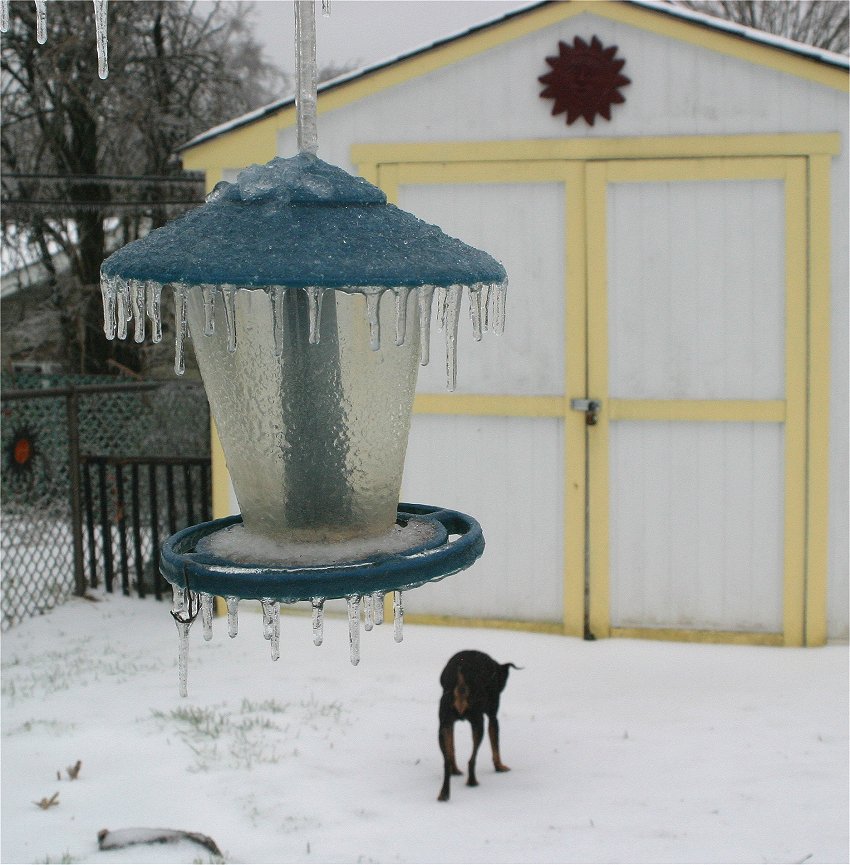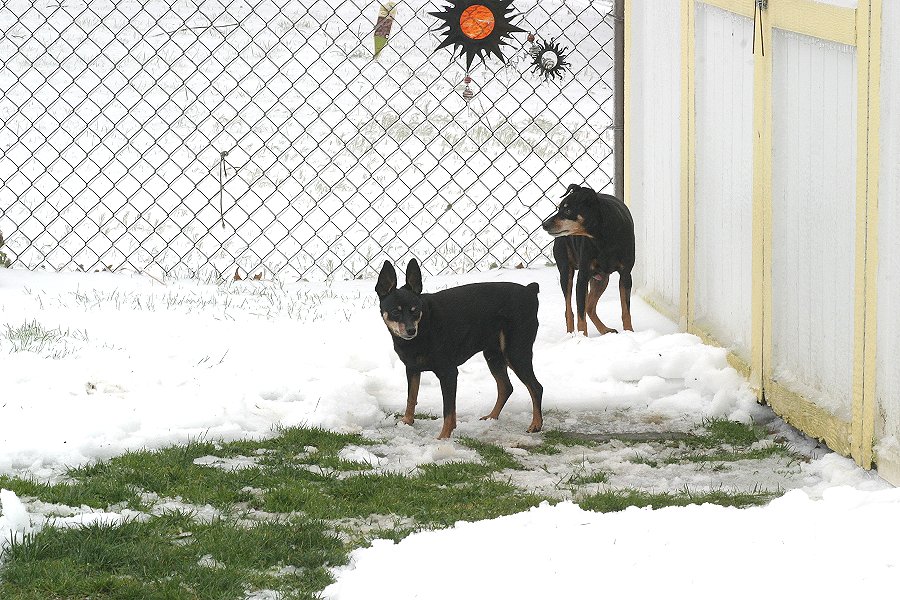 I was hoping after 5 days all the snow would be gone!!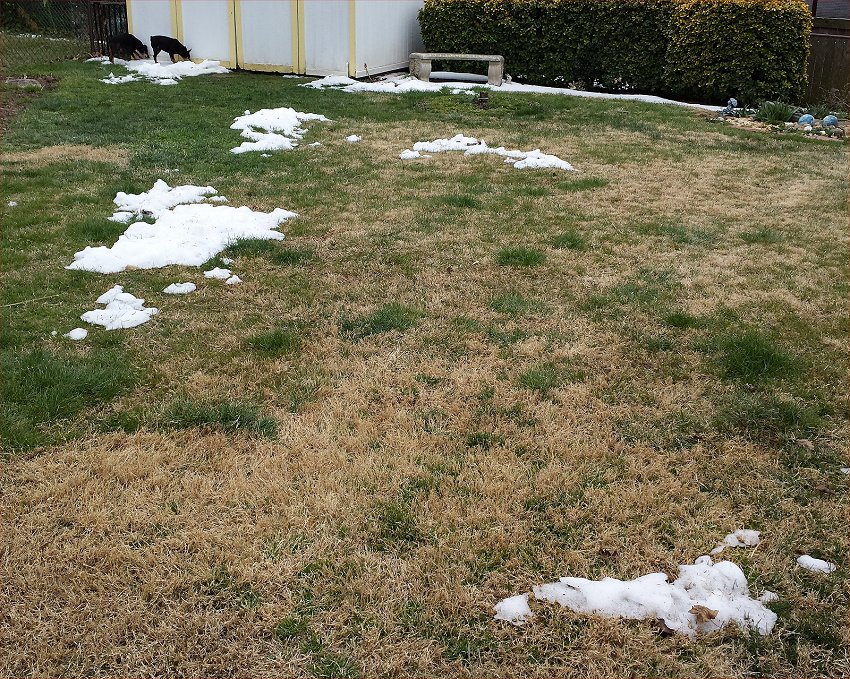 Really ???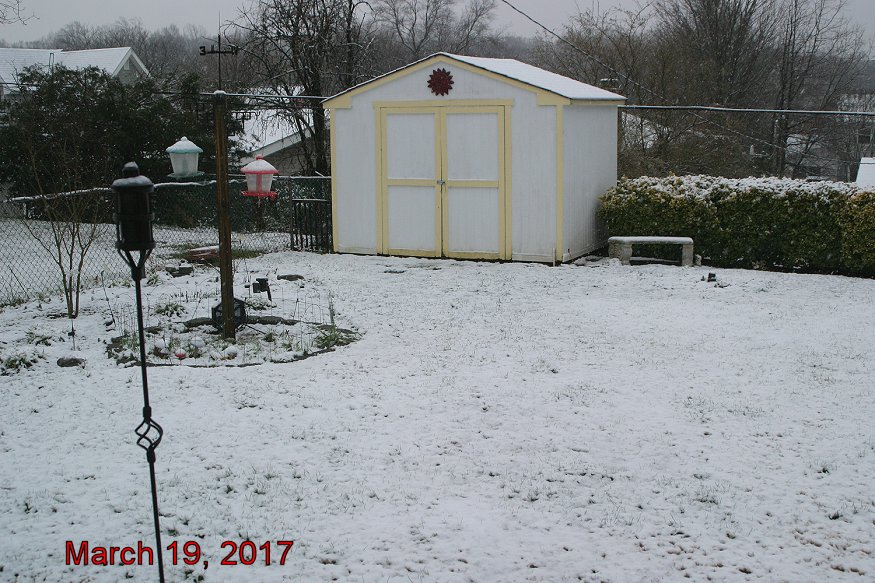 At least it was melted by noon...
Nothing like basking in the sun!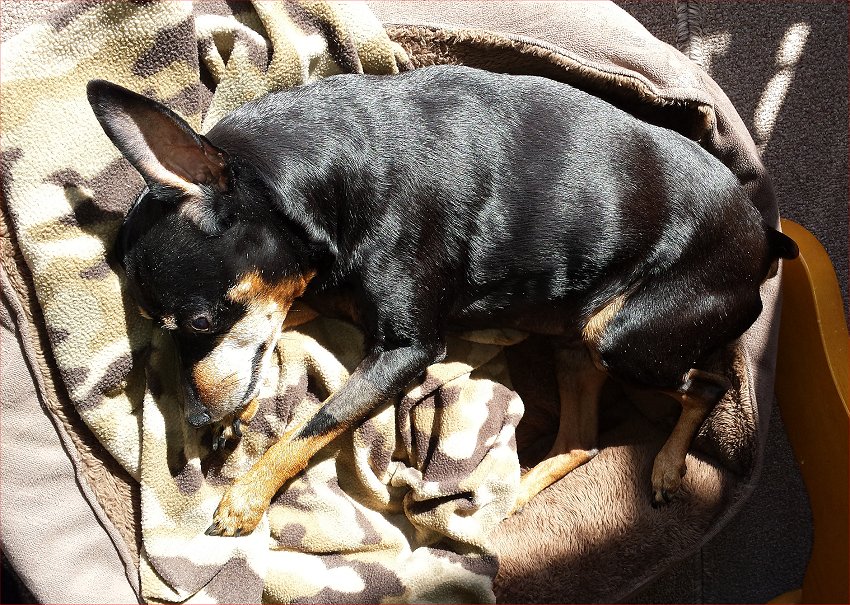 End of March and the weather is getting really nice... Digging weather!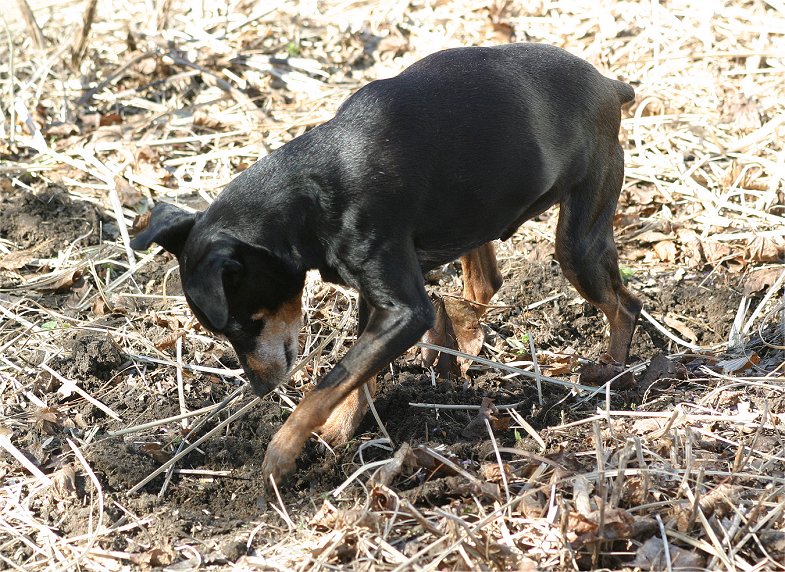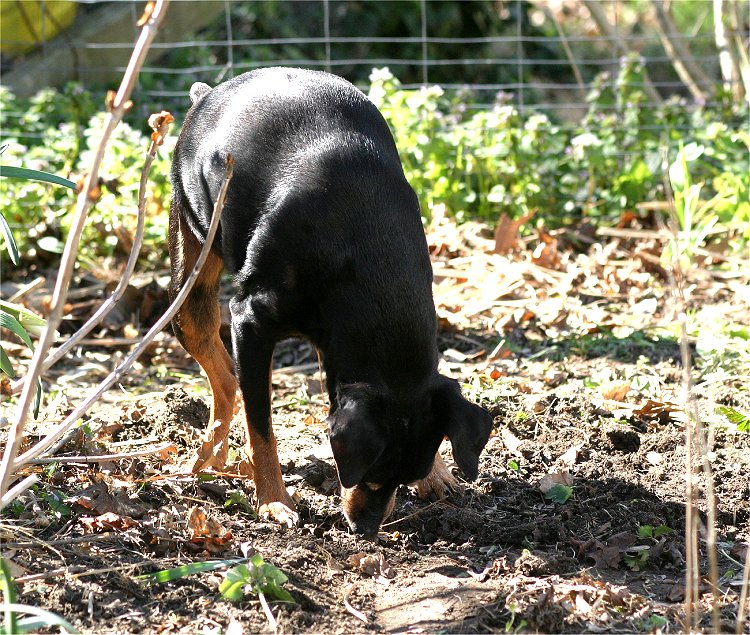 Time to dig something out of the toy box I haven't played with in a long time.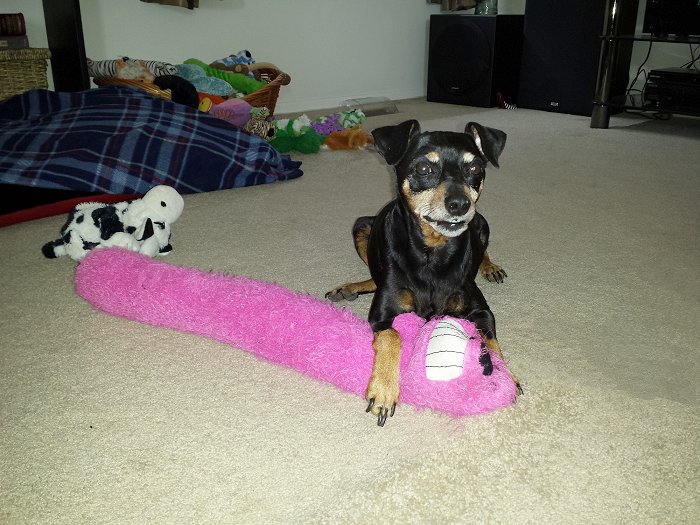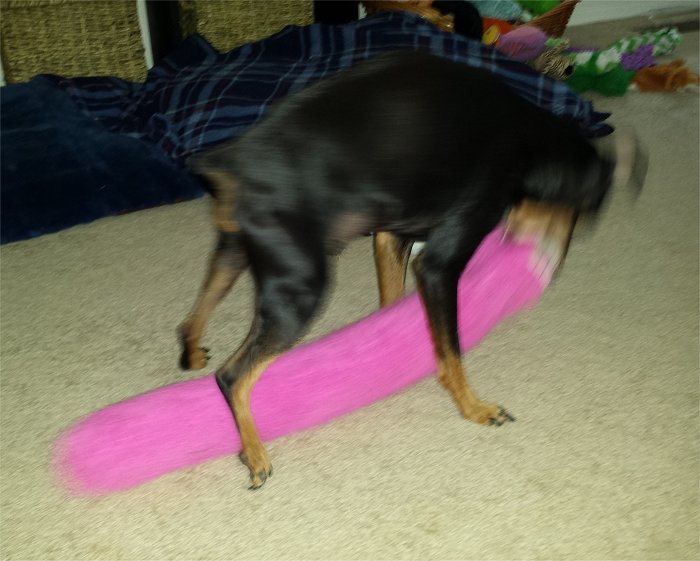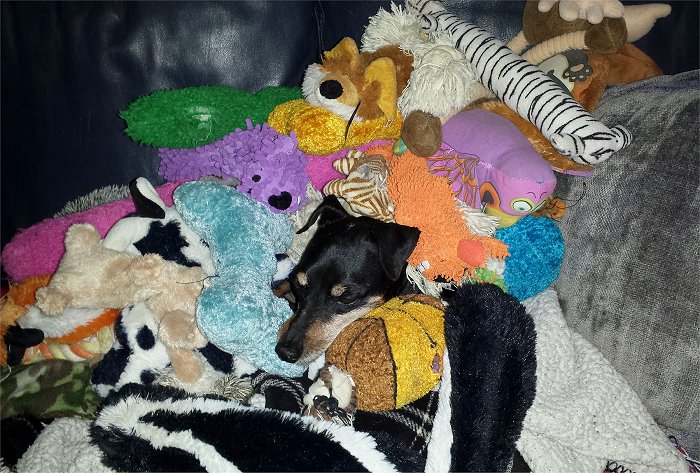 Where Am I ?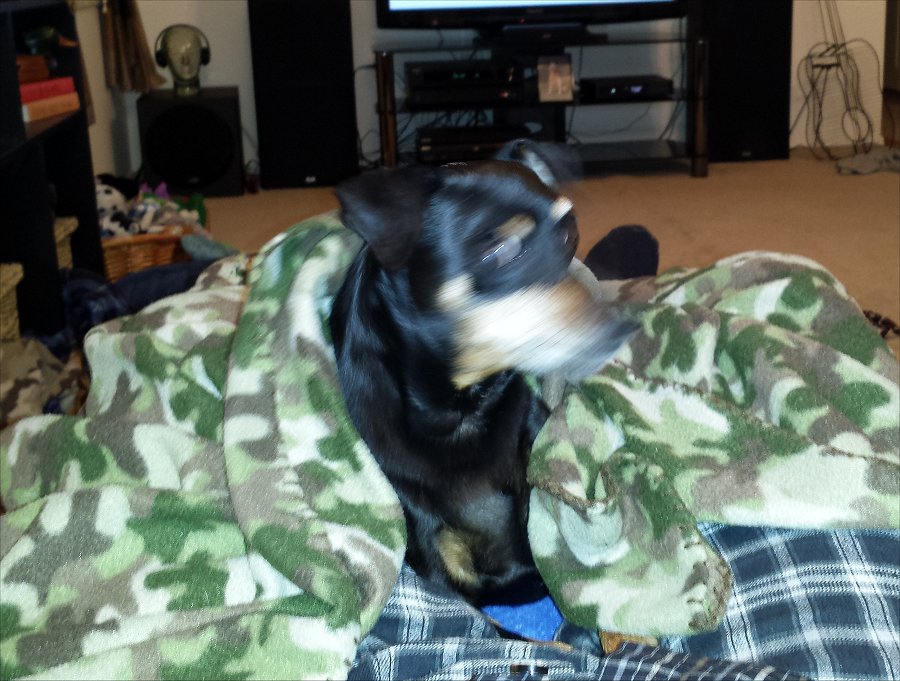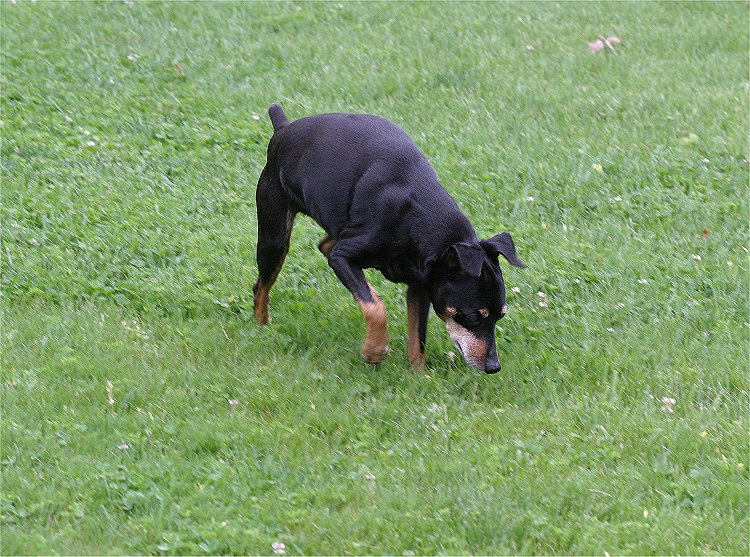 The middle of May and it's sure getting noisy around here...
I do believe it has something to do with all of these crunchy snacks walking around in the grass!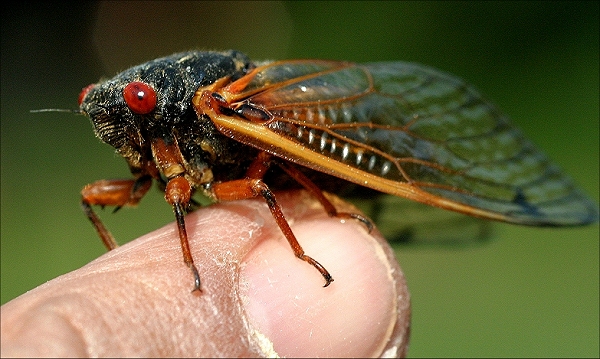 June's almost gone and the noisy 4th of July is next week.
That's when this strange house guest EZRA will be going home.
Mom's been watching him here for about 6 days now and he's a strange dog..
I think he has a little mountain goat in his blood!!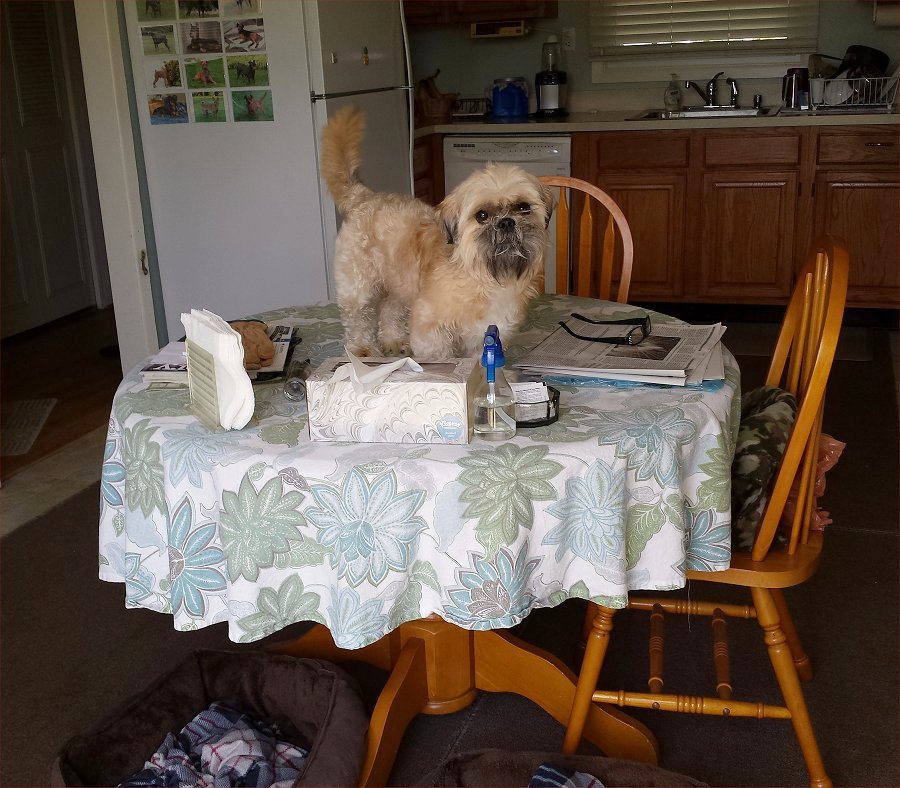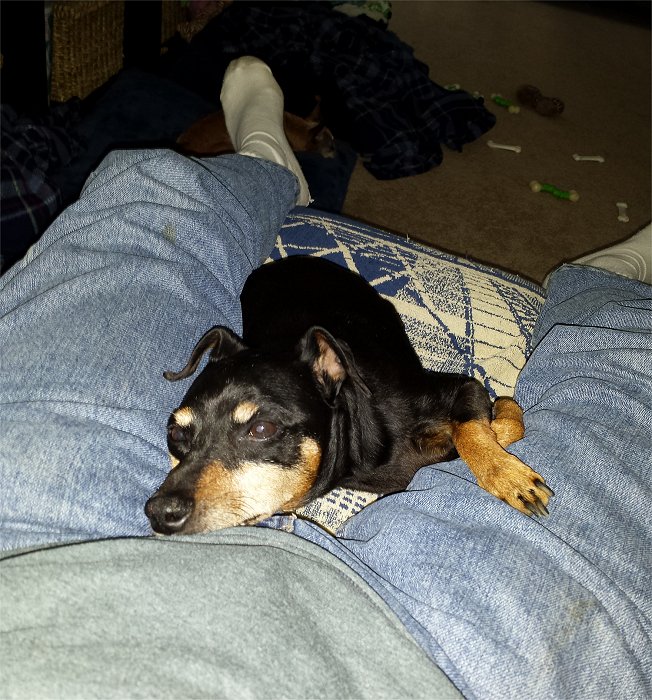 July 11th with a little excitement going on today, even though I don't show it...
Dad found a lump on Jack's neck yesterday so he was originally going to the vet in the afternoon until Pippin rolled out of his bed in the office and had some sort of episode where he was semi-conscious on his back like a turtle trying to get on his feet. Needless to say they both will be seeing Dr Anderson in the morning. This time I get to go along for the ride without being messed with.
Pippin had fluid built up in his lungs with a heart murmur and had x-rays and sent home with a bunch of pills.
Jack had x-rays and had fluid taken from the lump that has to be sent off for analysis and and also sent home with a bunch of meds.
The report showed no cancer but after just 5 days of meds the lump is getting worse.


As of July 20th after many trips to the vet and many meds, Pippin and Jack's condition seems to be getting stabilized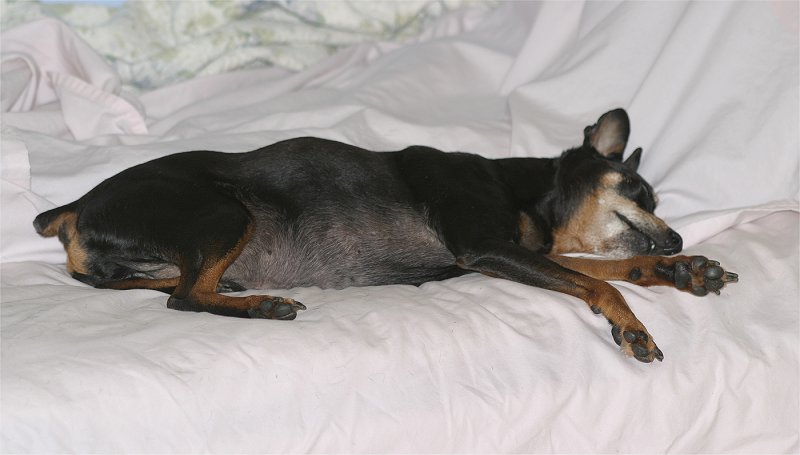 ---
July 25th 2017


Our trip to the vet today ended in sadness.
Pippin's vital organs were shutting down and Mom & Dad didn't want him suffering.
Since Jack and I were also there, we along with the hospital staff, said our good-byes.
He was a wild and crazy boy and he let us know his time was at end.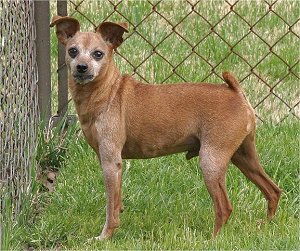 ---
July 28th 2017
Dad has the day off and we boys can tell he's hurting since he said goodbye to Pippin a few days ago I see him stare with such sadness at the wall where his food bowl used to be and his empty favorite place to sleep in the living room. He was laying on the living room floor yesterday afternoon loving on us and never saw him cry before so we licked his tears and made him feel better. He wanted to get out of the house this morning and since we haven't been on a walk in a long time because our back legs aren't too strong, Dad took us down the street and back and we all enjoyed that!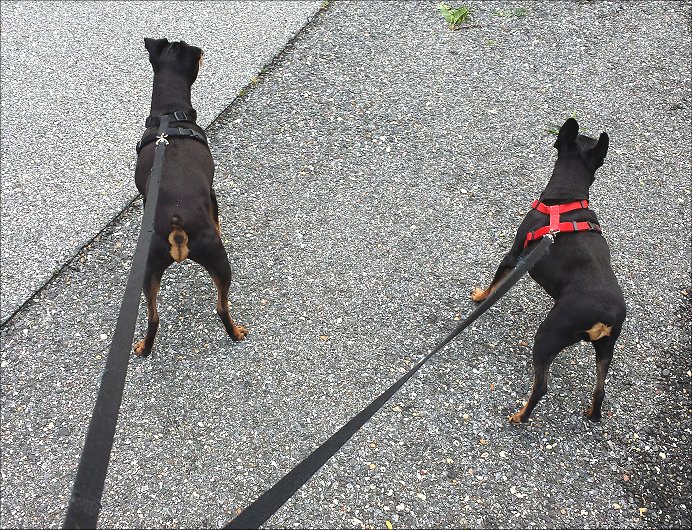 What a way to spend a Sunday, closed in the kitchen while Mom & Dad clean the carpet.
Since Pippin has passed he won't be taking the rap any longer for all of the pee "accidents"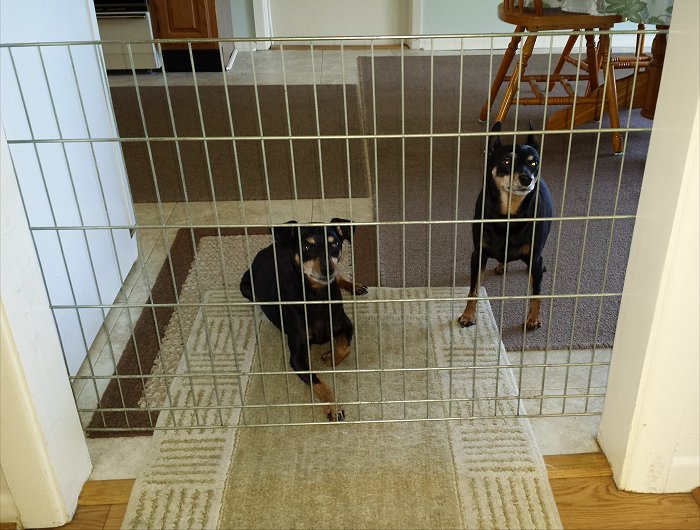 This really is "one" of my favorite places to take a nap...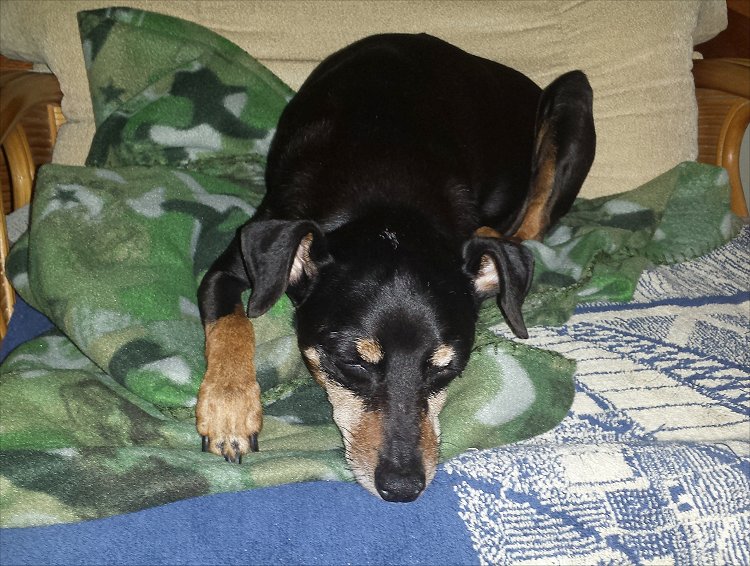 August is ending and as much as I like to nap inside I can't let summer slip away without exploring my backyard. Time is going by so fast and this nice warm weather will be gone before I know it...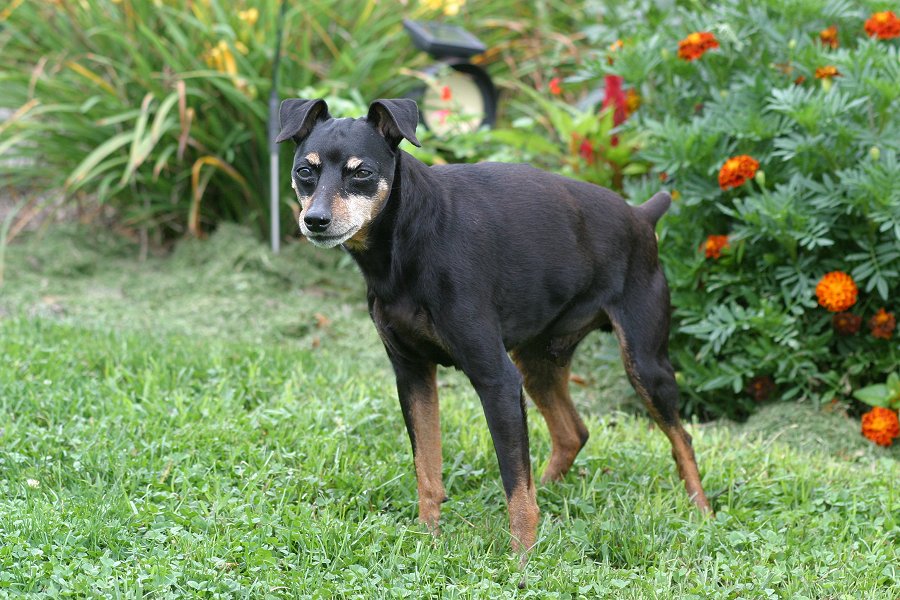 Those are some tall tomato plants back there...
I just need to find a way to get past all of the barriers Mom put in my way!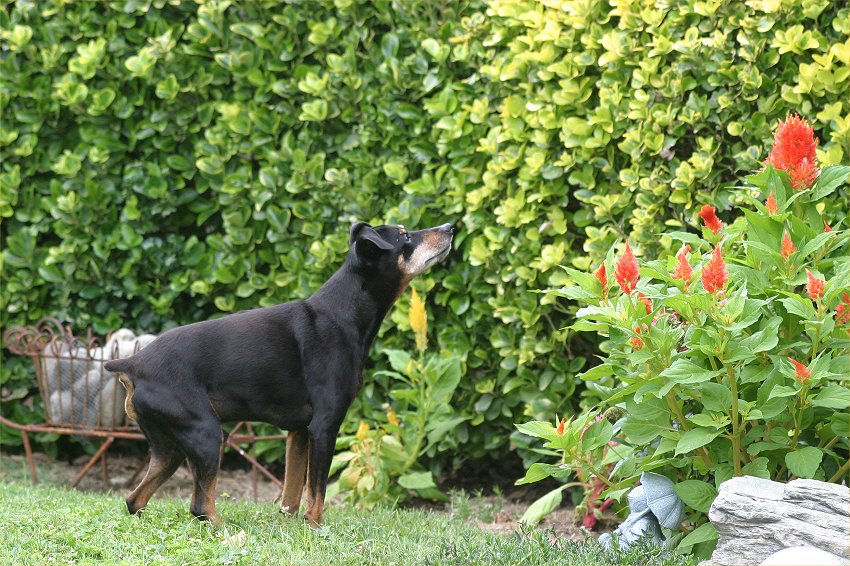 September 16th, Mom & Dad are fostering a 1-1/2 year old red girl named Lexi to find her a forever home.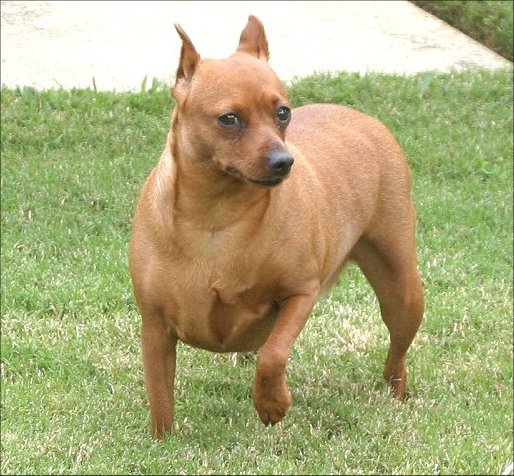 It seems I can't make a move without this girl invading my space...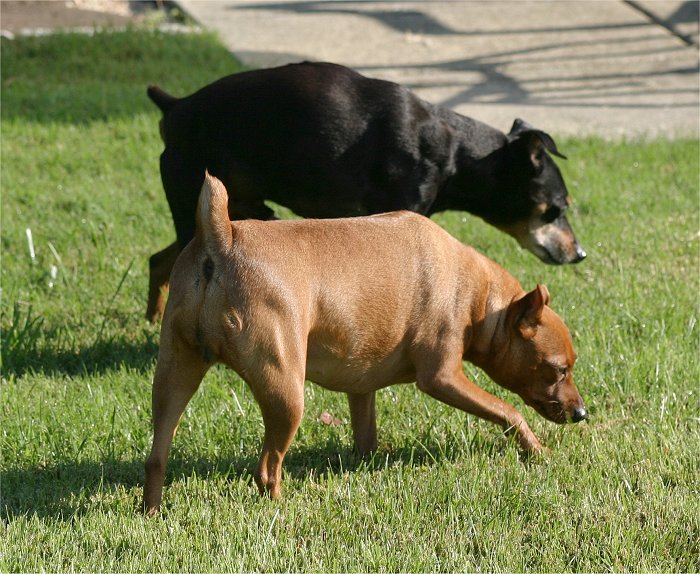 She has no idea how lucky she is to be in my spot !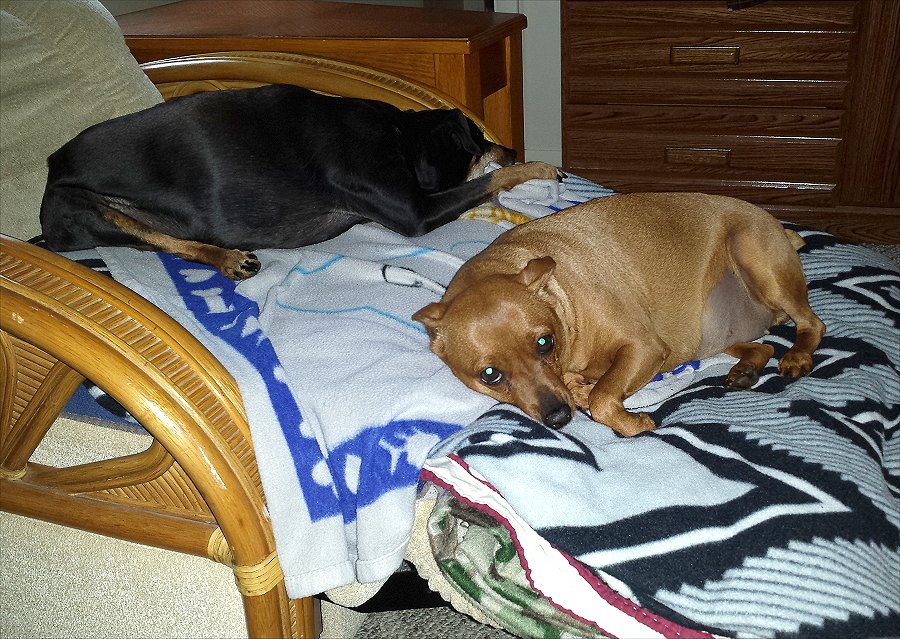 September 29th 2017
Celebrating Being Adopted 9 Years Ago!
Doesn't get much better than this...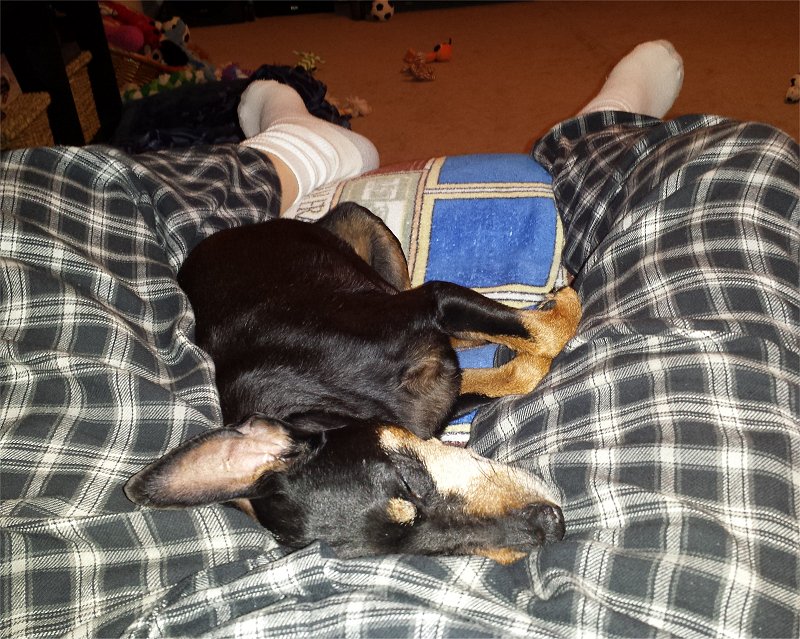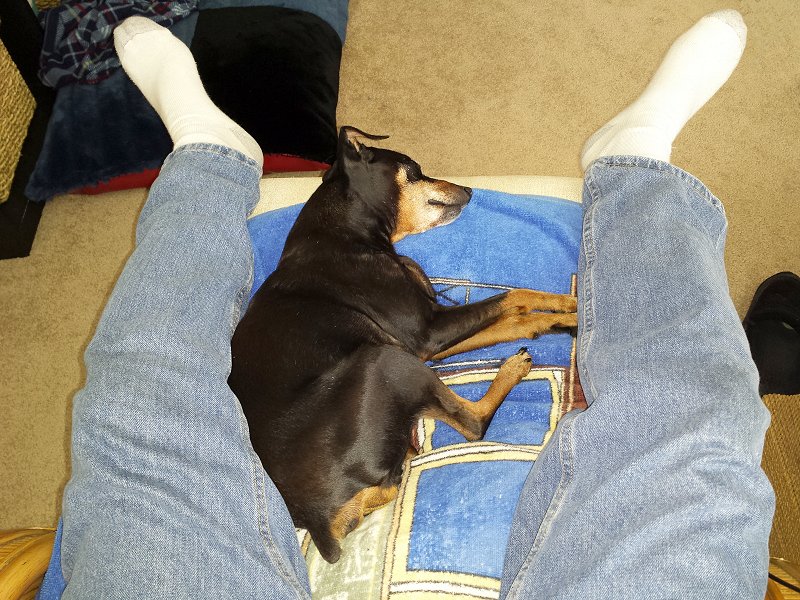 October 23rd 2017
Lexi found her forever home last week and it was quiet in here once again but only for a little while.
Mom drove 8 hours today to bring home mother & daughter Min Pins from NC for fostering..
Jack and I are getting too old for this stuff!!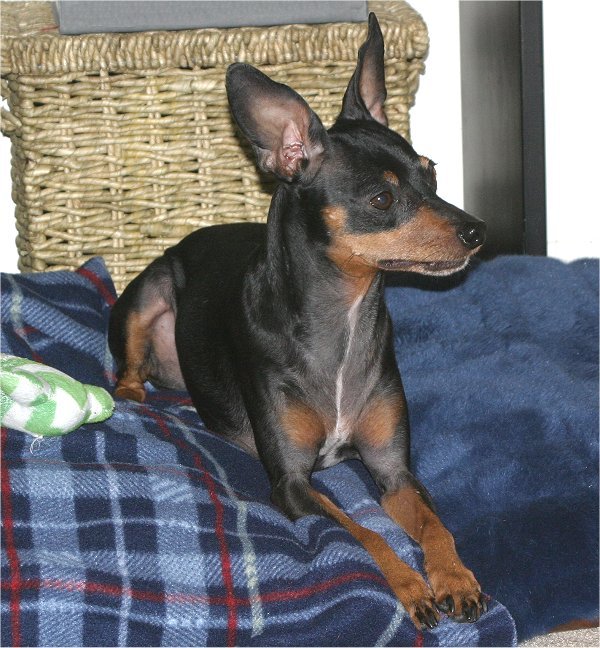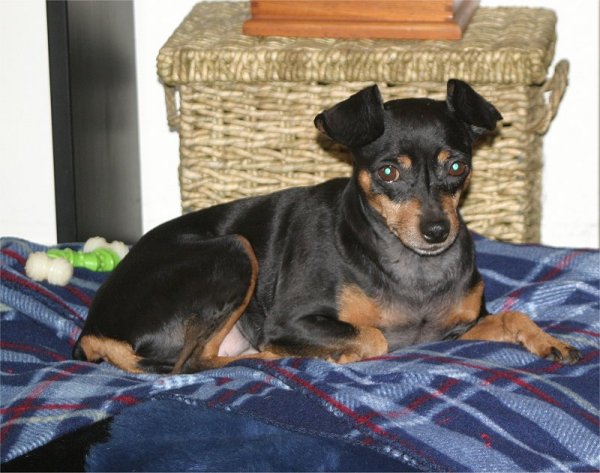 You would think Dad would have learned by now how fast "young" Min Pins are after Roxie got out the front door last week but, you'd be wrong. Dad opened the front door to grab the mail and told Roxie and Rosie "back" Two seconds later they were both out the front door running full speed down the street. Dad had to get dressed, find shoes, two leashes and car keys to go look for them. He caught Rosie first and brought her back then set off to find Roxie. They didn't get too far but I heard Dad mumble "I'm getting too old for this shit"




December 8th, 2017
Celebrating My 13th Birthday!




It's quiet around here since Lexie, Roxie and Rosie have gone to their new forever homes.

Saturday December 10th and we got our first snow of the season and
Winter's not even officially here for a few weeks...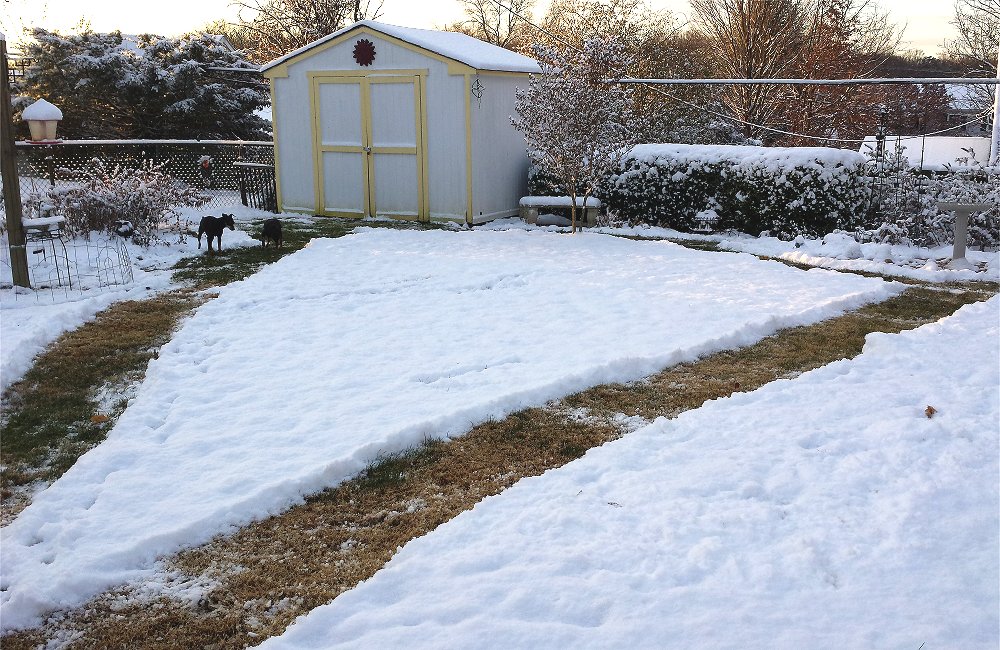 Here's a short video of our backyard after the snow and the nice paths Dad made for us since we're so Special!!
https://www.youtube.com/watch?v=WPdsXkzLc2Q&feature=youtu.be
The New Year 2018 is just a few days away and we got a little dusting of snow over night, no big deal.
The house has been a little sadder since the end of July when Pippin's life ended but we march forward...
---
---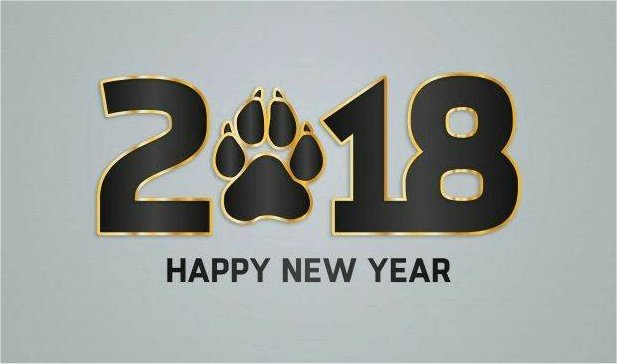 January 4th and we got a couple of inches of snow which wasn't too bad except it came with 30+ mph winds...
The recent single digit temps have been way too cold this winter !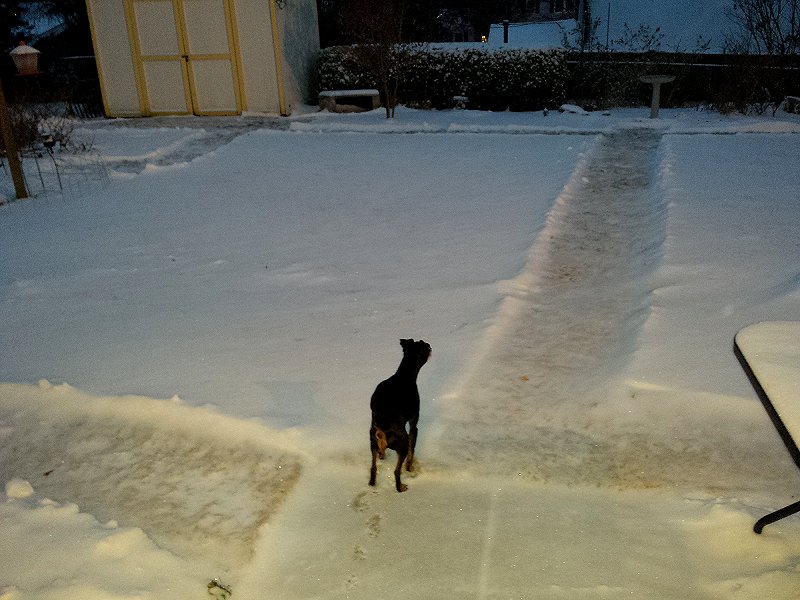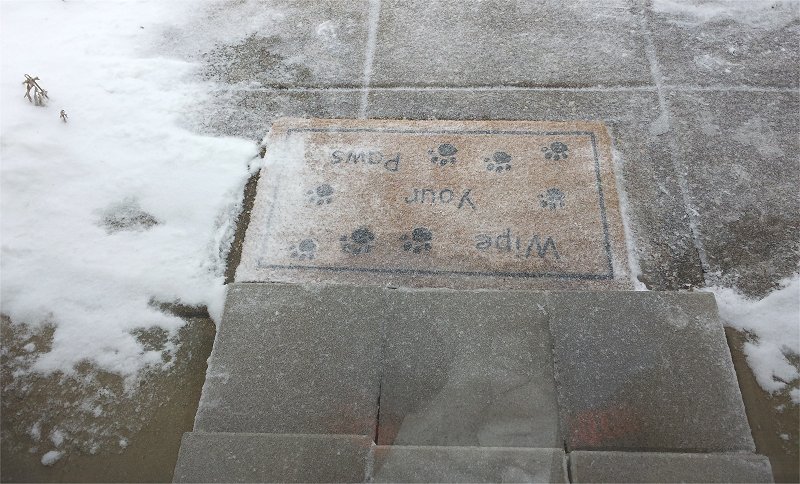 But it doesn't really matter too much once I get in my sunbeam zone!!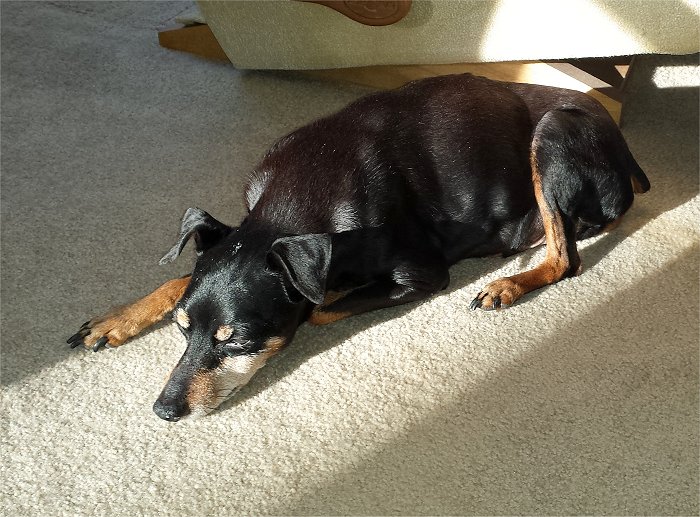 January 17th 2018 Woke up this morning to an inch of snow on the ground, oh boy !
Guess it's better than a foot or a bunch of ice...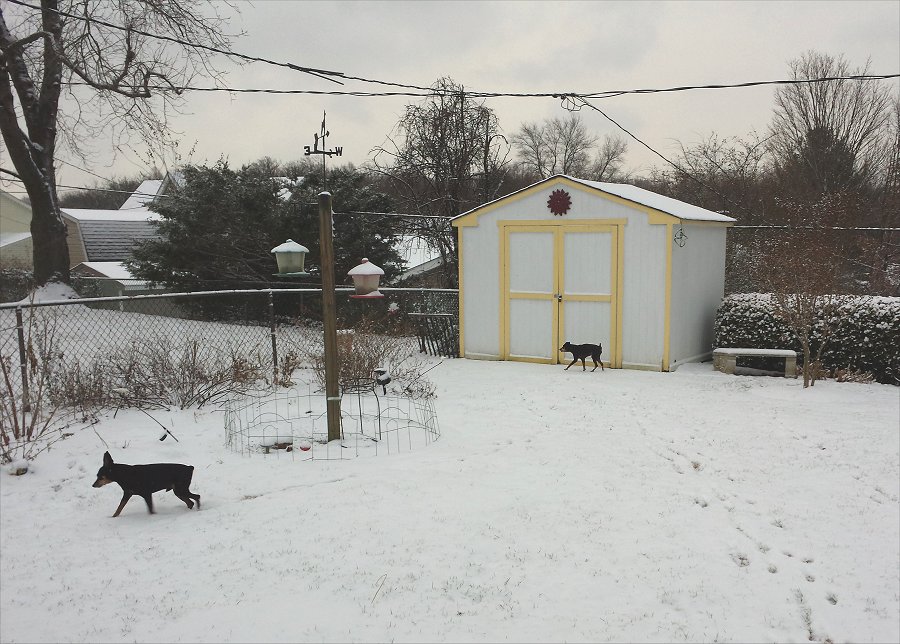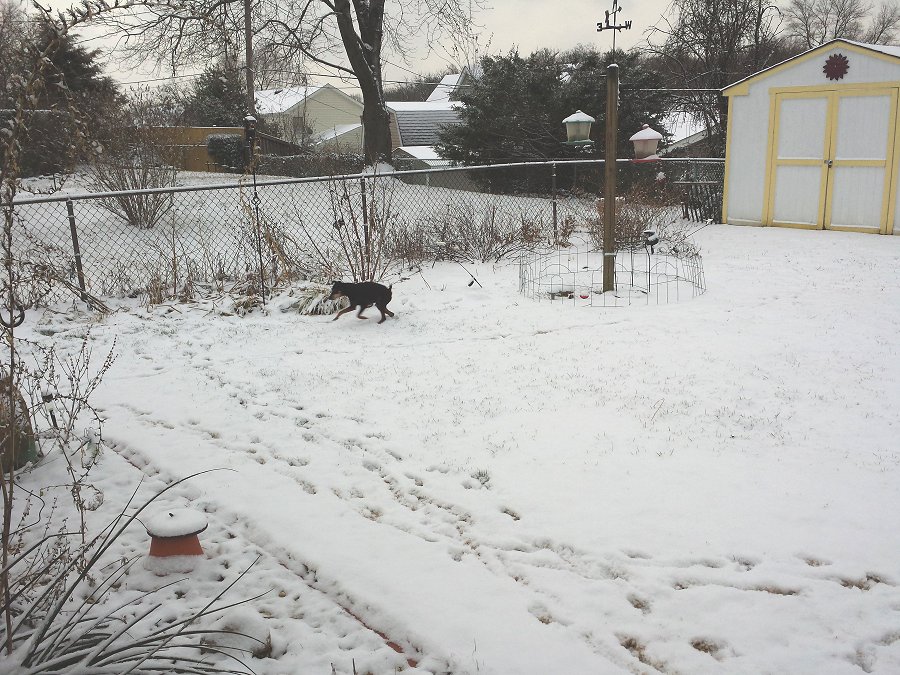 January is almost over and the days are staying lighter longer and some are much warmer...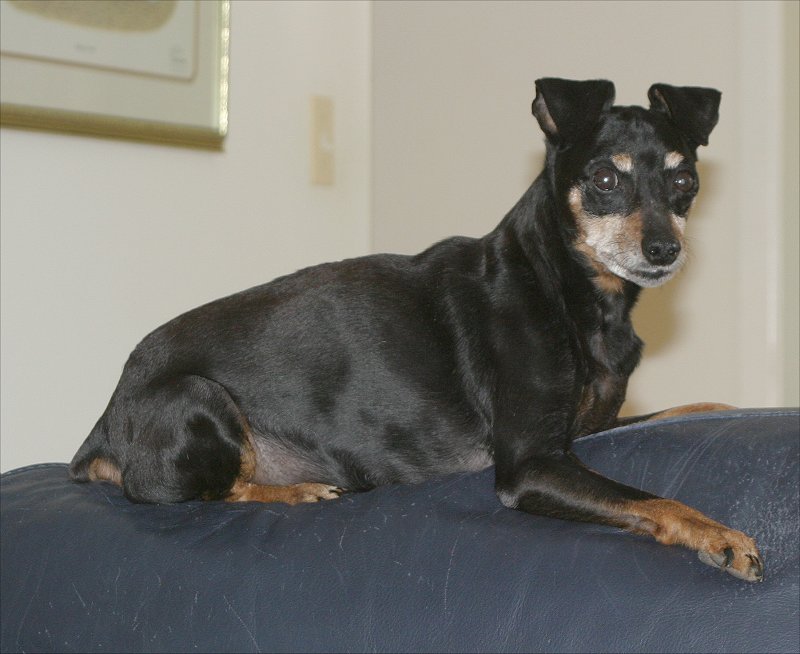 Nothing wrong with relaxing inside though!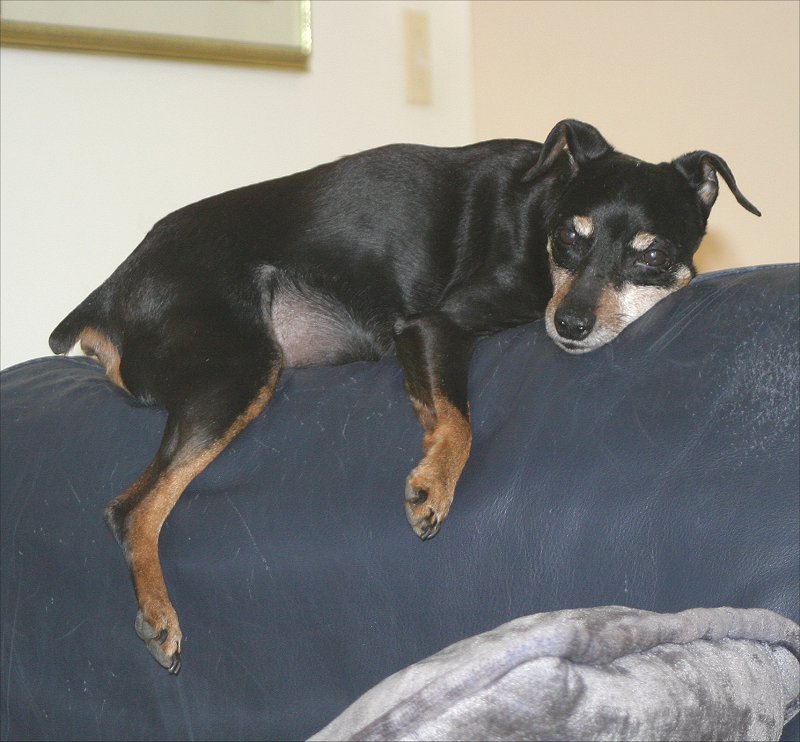 I remember DAD saying after Pippin passed away six months ago that no "male" foster dogs allowed. A few females came through here recently but they didn't need a bunch of pee pads everywhere. February 2nd, DAD just had to save this six month old red boy Min Pin from the scammers & flippers on Craigslist that was advertised as "free to good home" His owner was elderly and had no idea how much of a handful a puppy like us was.
He's getting his "hanging fruit" removed next week so maybe that will calm him down some!!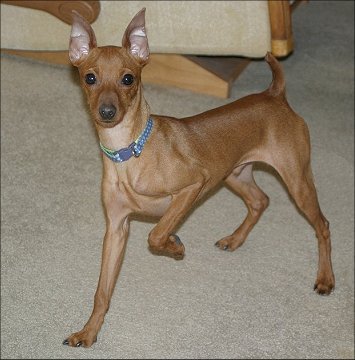 March 7th 2018 Hard to believe Daylight Savings Time is just four days away...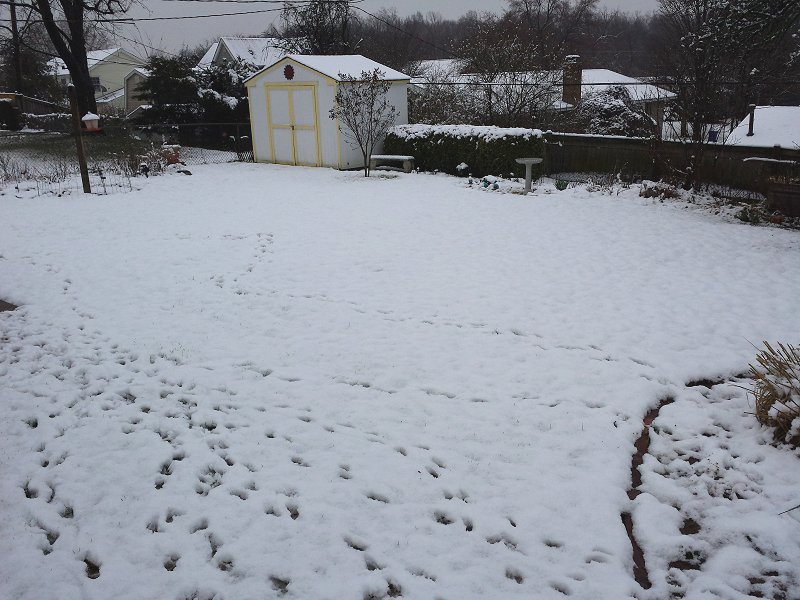 Oh Boy... March 21st... First full day of Spring !!!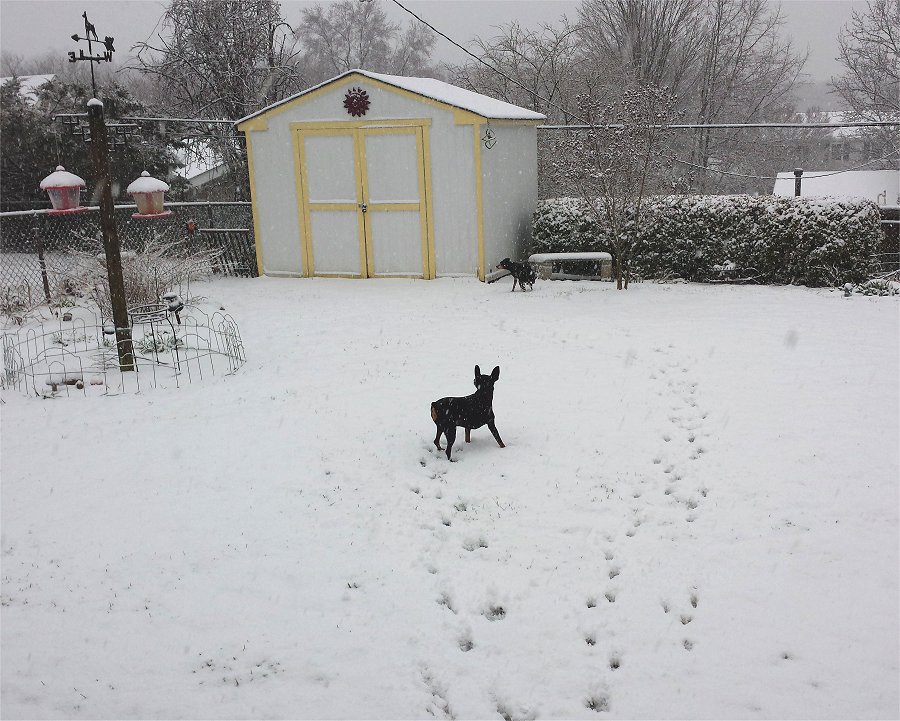 We ended up with almost five inches of snow when it was finally finished...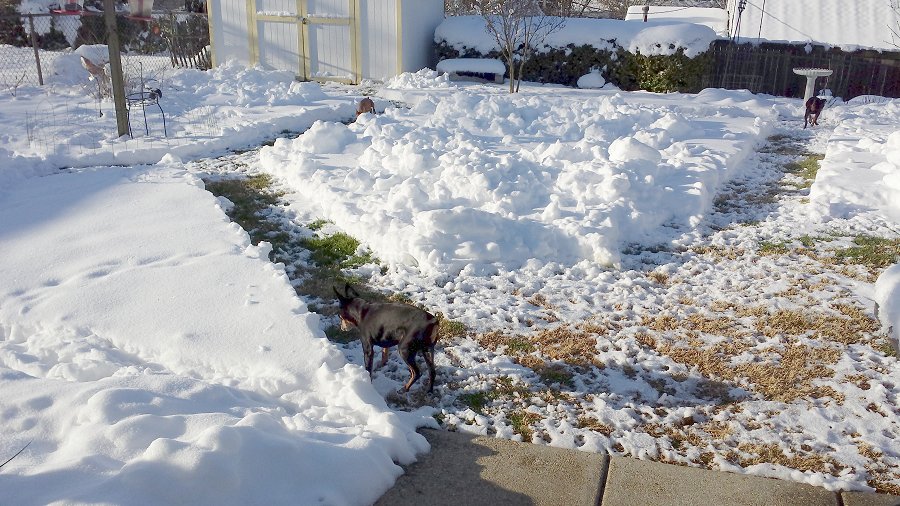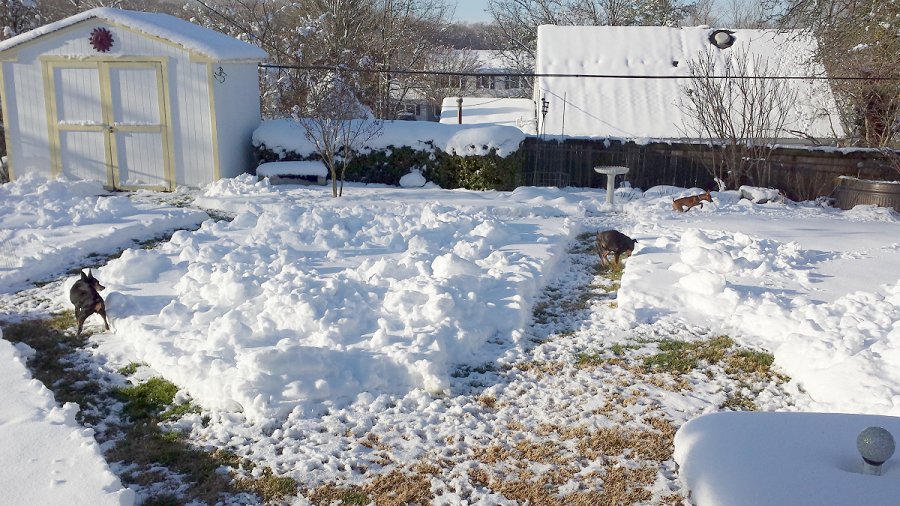 Caesar is supposed to be adopted this Sunday March 25th and will be living in South Carolina, Lucky Dog!

It's the last week in April and it's starting to warm up, finally...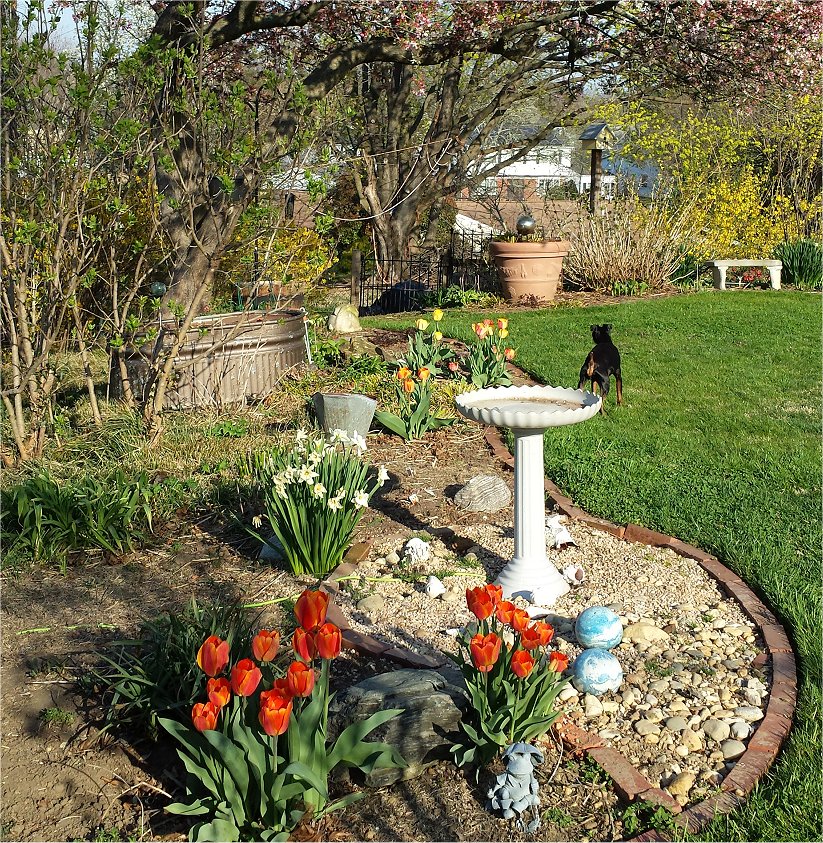 May 25th Jack and I got our bloodwork done and Jack may have some issues that could become serious with something called Cushings. I just had some values that showed my diet needs to be looked at. I eat good food, fruits and plenty of veggies so I think the test is out of wack... We'll see but in the meantime I will enjoy the nice weather that's here!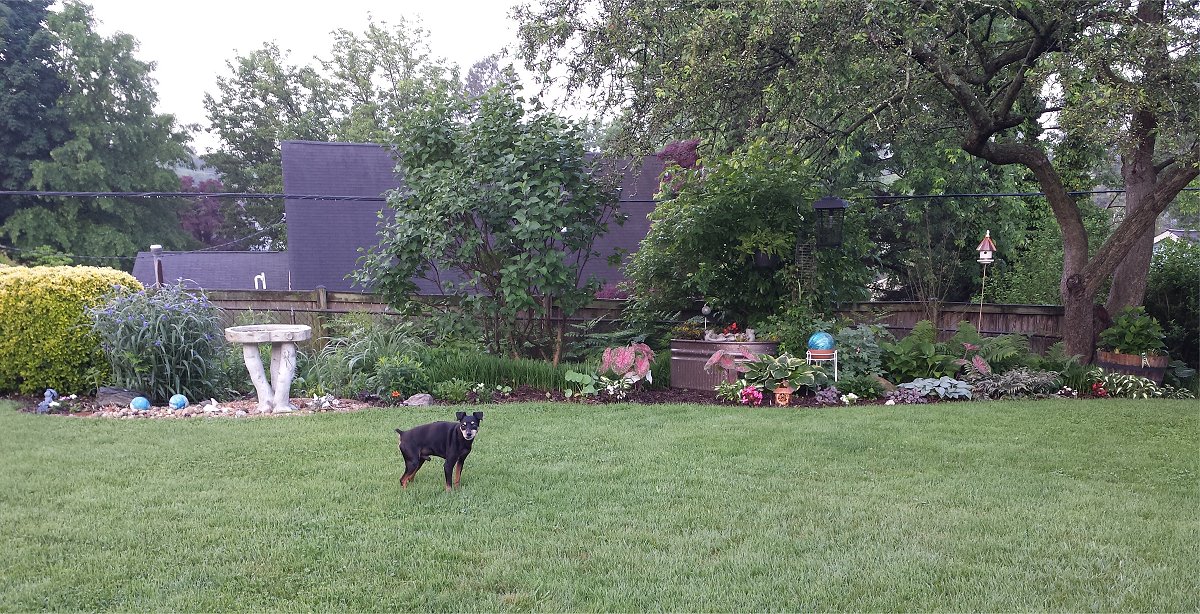 Well another trip to the vet on June 6th for a check up this time. I still have a heart murmur that hasn't changed and since it's not making a difference in my every day activities it's no big deal. I do need to start vitamin supplements to get more iron in my blood. My teeth need a cleaning but not bad enough to risk being under the gas with my heart murmur.
Not too bad for an old 13-1/2 year old boy!

First of July is here and boy is it getting hot outside in the 90's No big deal because I can enjoy the cool air inside!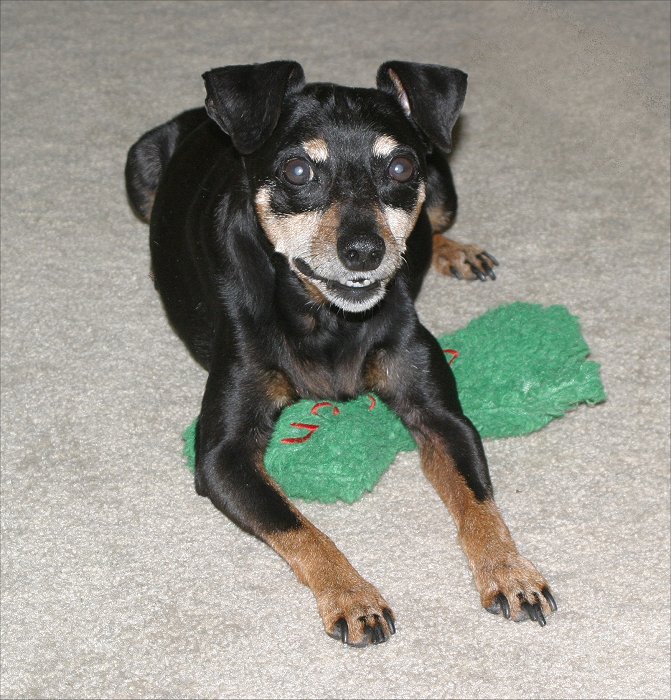 Sunday July 15th 2018
It's a nice cool cloudy morning before the 90+ heat arrives later so my nice Dad snuck me out of the house for a short walk while Jack was sleeping. Jack doesn't get around very well because his spine and back legs don't communicate with each other.
We didn't go that far since my legs aren't the greatest either
but it was sure nice to check out the neighborhood for a change.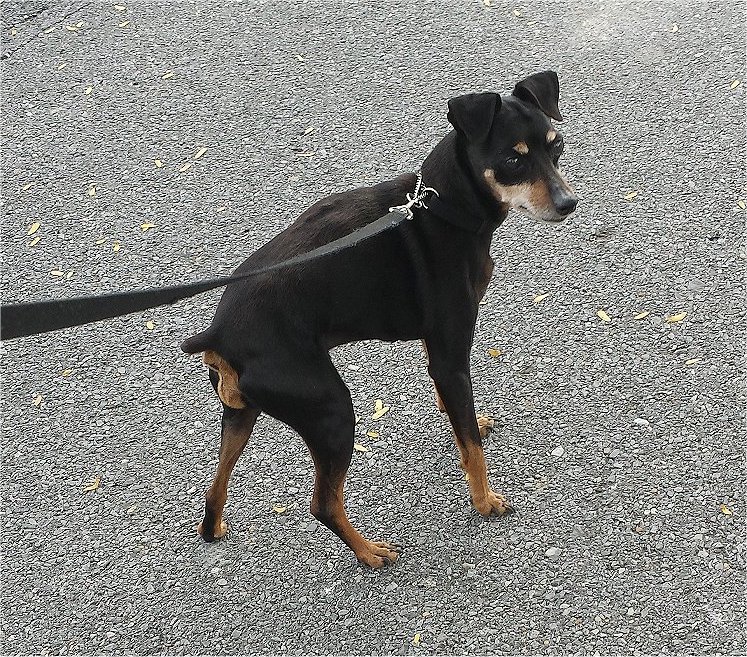 July 16th Mom & Dad both were off work and they started the day tossing out the leather sofa from the living room. It did have some serious "hits" from us boys over the years so out it went.

Then they rented a carpet cleaner and moved just about everything out of the living & dining room so we're stuck in the kitchen until it dries.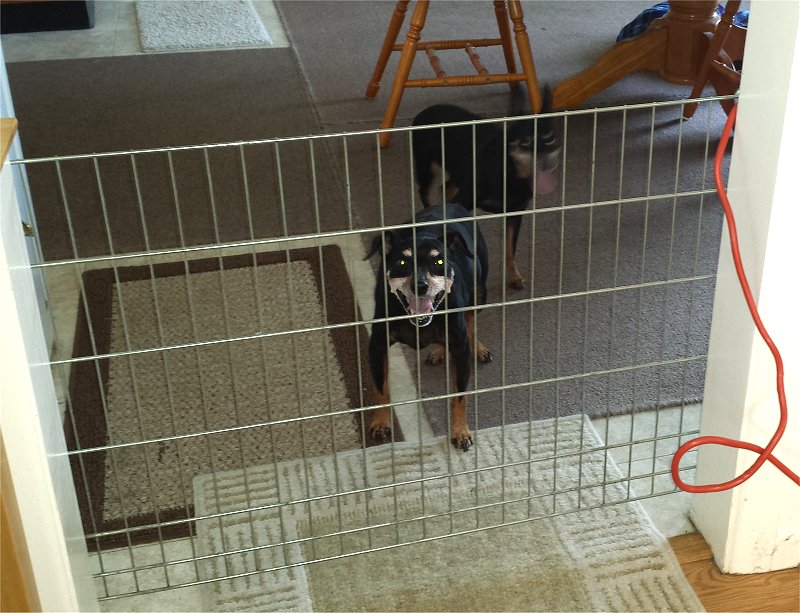 Saturday July 21st 2018
Miserable rainy day and Mom & Dad drove to Potomac MD to pick up a Lazy Boy recliner.
The weather won't stop Dad from getting a deal off Craigslist. Almost brand new and negotiated down to $40 bucks!!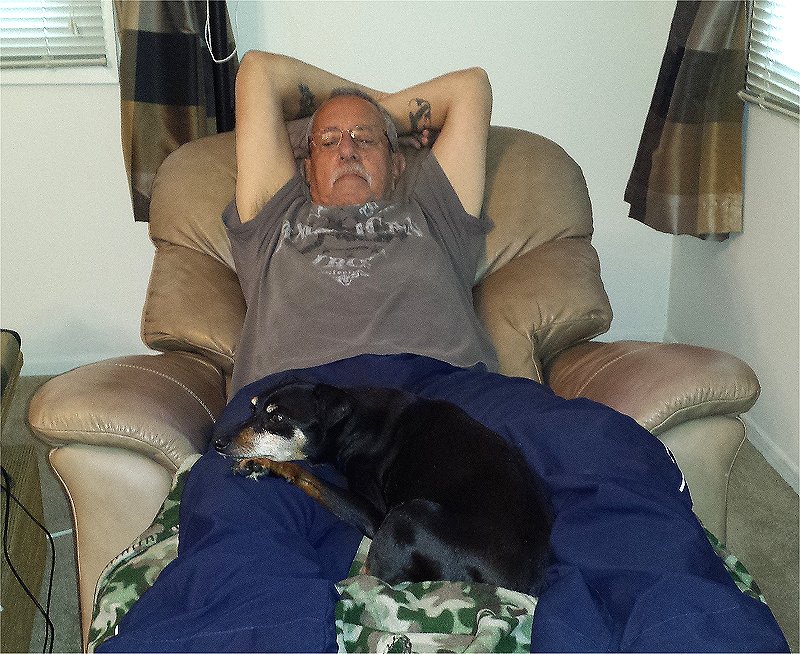 August has arrived and the weather keeps going from weeks of rain then a few of heat and dry..
Been watching my buddy Jack having problems walking which is getting worse as time goes by. He keeps going to the vet for injections hoping they along with meds will help keep him comfortable even though there is no magic cure. That's the thing about pet parents, they will do whatever it takes to keep us healthy, happy and would never have us suffer.
Saturday August11th... Just kicking back in the AC while it's really hot outside...
Mom & Dad are dealing with Jack's back and mobility issues. Jack's medicine arrived today so Dad can give the twice a week injections that hopefully start working better soon because the first five haven't gotten much improvement. Dad took me for a short walk while Jack was sleeping, something he does alot of any more. It was nice to get out of the house and check out the neighborhood. I do feel sorry for Jack since he used to be a speed demon through the yard... I can tell it looks like he's just about had enough of the falling down all the time.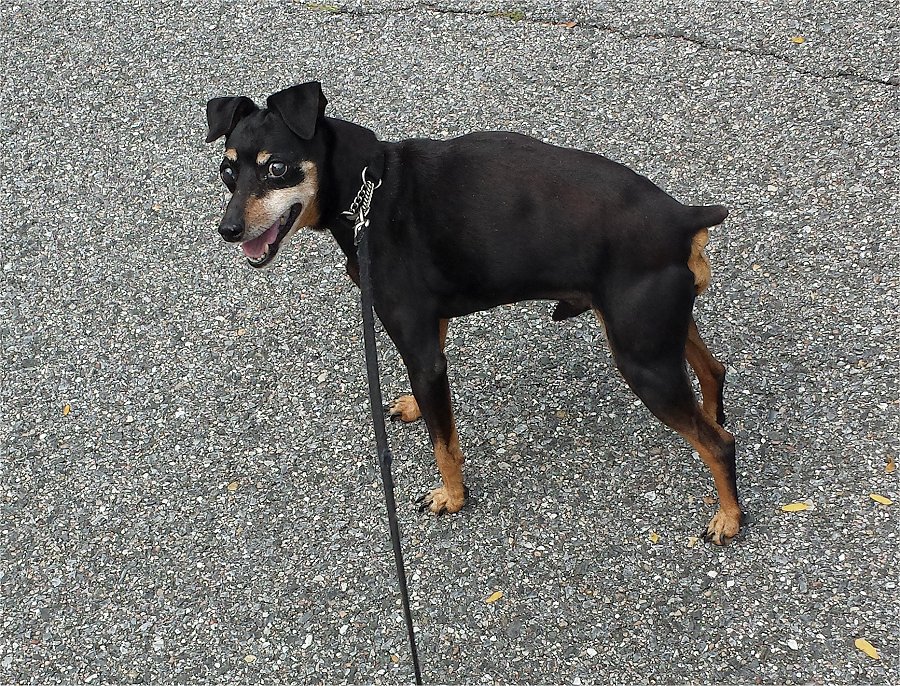 ---

~ Pet Lover Links ~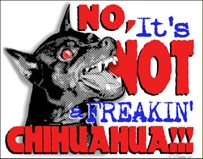 Miniature Pinscher ~ The King Of Toys

©1996-2018 JAMESGPHOTO